Executive Committee Western Region Representative Jalen Harvey was invited to the White Mountain Apache Tribal Youth Council Inaugration in Whiteriver, Arizona. A quote from the Youth Council Advisor, Eileen Crocker that stood out to Jalen was when she referred to her Youth Council as, "the group you'll never see sitting in the back.". Jalen loved this quote because at every UNITY Conference either Midyear or National, the White Mountain Apache Tribal Youth Council is always sitting in the front!
"It was an amazing event, and I'm grateful to have made the drive, because the drive was truly beautiful. I was able to meet the members that were sworn into the Youth Council, and also witness their oath of office." – Harvey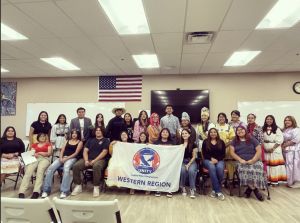 Female and Male Co-Presidents for the White Mountain Apache Youth Council: Jada Vargas and Shane Paxson Jr, delivered speeches where they focused on their expectations and goals for their upcoming term with the Youth Council! Also in attendance were the Fort Mcdowell Yavapai Nation Youth Council and the Yavapai Apache Youth Council that came from Camp Verde, Arizona!
"There was so much positive energy in one room, and extremely humbled to have been apart of such a historic event! I have great intentions that the White Mountain Apache Tribal Youth Council will do an amazing job at representing their community, and their people!" – Harvey

Stay tuned for more updates from your NUCEC Reps!