The Western Region consists of geographical areas and the states of Arizona, Nevada, and Utah. The Western region has 65 affiliated youth councils in 3 states within the UNITY Network.
The Western Region is a significant region within the UNITY Organization, as it is the current UNITY Headquarters office located in Mesa, AZ. The western part of this region trails through the desert of Arizona to the vast semiarid grasslands of Nevada, ending with the Rocky Mountains of Utah. Within these states, there are approximately fifty federally recognized Tribes and thirty-plus Youth councils. Each is unique and different through culture, language, and government.
2022 SPRING Western VIRTUAL MEET-UP
2021 Fall Western Virtual Meet-Up
UNITY News: Western Updates
Western Regional Representative: Steve Harvey
Steve Harvey is an enrolled member of the San Carlos Apache Tribe. Mr. Harvey is the Western Regional Representative to the National UNITY Executive Committee and 2021-2022 Circle of Earth Ambassadors.
Biography of Western Regional Representative Steve Harvey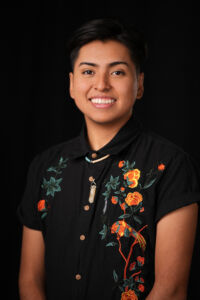 Steve Harvey is an enrolled member of the San Carlos Apache Tribe. Mr. Harvey is the Western Regional Representative to the National UNITY Executive Committee and 2021-2022 Circle of Earth Ambassadors. Outside of UNITY, Mr.Harvey is an active member of the San Carlos Apache Tribe Youth Council and an employee under the San Carlos Apache Tribe Social Service Department. While a full-time student at Eastern Arizona College, he is working toward his associates in Liberal Studies and Social Work. Mr. Harvey has grown up around the core values and teachings of the Apache way of life and uses those teachings instilled by his community to work toward empowering and leading the youth within Native Country. Mr. Harvey is currently finishing up his associates degree at Eastern Arizona College. He plans on pursuing his Education at the University of Arizona to obtain his undergraduates degree in Social Work. Mr. Harvey is a strong advocate for addressing environmental concerns. Through his work, he serves as an Environmental ambassador extracting and distilling lessons from nature and culture to explore alternatives for a sustainable future to live more gently on our planet as Ambassadors of our environment. Mr. Harvey believes that advocating for the planet is a step in the right direction to addressing environmental concerns within native communities.
Mr. Harvey is excited to be the voice for all within his region and throughout Native America. He is serving as a role model for the UNITY organization, which he aspires to continue to work toward a bigger goal of empowering and creating leaders of tomorrow. His biggest aspiration for his term is to create a foundation to continue youth success within the Western Region
WESTERN REGION
Steve Harvey, Western Regional Representative
National UNITY Council Executive Committee
Western Region Youth Councils
1. Young River People's Council, Salt River, Arizona
2. Lutu'uria Youth Council, Navajo Nation, Arizona
3. Dzilyijiin Youth Council, Arizona
4. PYT Leaders of Tomorrow, Arizona
5. Akimel Oodham/Pee Posh Youth Council, Gila River, Arizona
6. Fort Yuma Youth Council, Arizona
7. Hikiwan District Youth Council, Tohono O'odham, Arizona
8. Morningstar Leaders Youth Council, Arizona
9. Office of Dine YOUTH, Navajo Nation, Arizona
10. Mesa STRENGTH Youth Council, Mesa Public Schools, Arizona
11. White Mountain Apache Tribal Youth Council, Arizona
12. Hopi High School Youth Council, Arizona
13. Tribal Images Youth Council, Tucson Public Schools, Arizona
14. Mountain View High School Native American Club, Arizona
15. BaHManya Magiyoda Youth Council, Fort McDowell Yavapai Nation, Arizona
16. Native Insights Youth Council, Navajo Nation, Arizona
17. Colorado River Indian Tribes Youth Council, Arizona
18. Ak-Chin Youth Council, Arizona
19. Dookoliid Youth Council, Arizona
20. Yavapai Apache Youth Council, Arizona
21. Chukut Kuk District Youth Group, Tohono O'odham, Arizona
22. Fort Mohave Youth Council, Arizona
23. Cesar Chavez High School Native American Youth Council, Arizona
24. Navajo Nation Youth Advisory Council, Arizona
25. Language and Culture- Yaqui Youth Group, Arizona
26. Sif-Oidak District Youth Council, Tohono O'odham, Arizona
27. Arizona Facts of Life, Arizona
28. Trevor Browne Native Youth Council, Arizona
29. Tucson Native Youth Council, Arizona
30. San Carlos Apache Youth Council, Arizona
31. Page High School UNITY, Arizona
32. Dine College Youth Council, Arizona
33. Future Inspired Native American Leaders Youth Council, Arizona
34. Youth MOVE, Pascua Yaqui, Arizona
35. Tohono Oodham Nation Youth Council, Arizona
36. Reach UR Life Youth Council, Arizona
37. Phoenix Union High School District Youth Council, Phoenix, Arizona
38. Winslow Residential Hall Youth Council, Arizona
39. Azee Bee Nahagha of Dine Nation, Arizona
40. Baboquivari District Youth Council, Arizona
41. Camelback High School Native Youth Council, Phoenix, Arizona
42. GuVo District Youth Council, Tohono O'odham, Arizona
43. North High School Native Youth Council, Phoenix, Arizona
44. San Lucy District Youth Council, Tohono O'odham, Arizona
45. Schuk Toak Youth Alliance, Tohono O'odham, Arizona
46. Tse dil Doil Youth Council, Navajo Nation, Arizona
47. Wa:k Youth Council, Tohono O'odham, Arizona
48. Yoeme UNITY Youth Council, Pascua Yaqui, Arizona
49. Pascua Yaqui Education Youth Council, Arizona
50. Pascua Yaqui Boys and Girls Club, Arizona
51. District 17 Youth Council, Navajo Nation, Arizona
52. Red Mountain UNITY Council, Fort McDermitt Paiute Shoshone Tribe, Nevada
54. UNITY of Reno-Sparks Indian Colony, Nevada
55. Pyramid Lake High School UNITY Youth Council, Nevada
56. Shoshone-Paiute Tribe Duck Valley Indian Reservation, Nevada
57. Yerington Paiute Tribe, Nevada
58. UNITY Aneth/Montezuma Creek, Utah
59. Albert R Lyman Middle School Youth Council, Utah
60. Alpine School District, Utah
61. Monument Valley High School, Utah
62. Navajo Mountain High School, Utah
63. Navajo Mountain Junior High School, Utah
64. San Juan High School Youth Council, Utah
65. White Horse High School Youth Council, Utah

Crystal
"Being here with UNITY is such a great experience. You get to meet so many new people and learn more about different tribes and their cultures.""

Marisa
"The gathering, the sharing of cultures, the UNITY of our people!"

Greg
"Our YOUTH is the future!"

Fefe
"It's the best place to be open about what you think and what you want to do for your school or community. They make you feel like family and welcome you openly."

Darlene
"Great organization that allows empowerment for the Native youth to excel in leadership skills, networking opportunity, and early professional growth."

Kay
"Awesome for youth group & leadership."