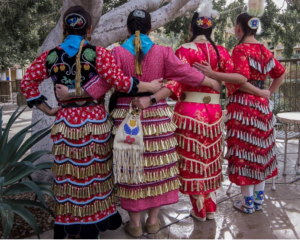 We realize you may be experiencing moments of anxiety or stress due to self-isolation or due to constant online exposure concerning the Coronavirus pandemic. Experts say having a positive attitude, taking a balanced approach to life's ups and downs, and using relaxation exercises are just some of the ways that people can alleviate stress and anxiety. To deal with stress caused by technology, start by choosing an hour a day when nothing electronic, wired or wireless, can intrude. Unplug phones, turn off chimes, flip on voice mail and let electronic messages arrive unannounced. Better still, pick a longer span of time to unplug and enjoy each moment of peace. During dinner? After sunset? At 10 p.m.? One entire weekend day?
Mental health services and resources are available in most Native communities. Contact information is available through your local Indian Health Service, healthcare facilities or wellness centers. Many treatment programs integrate cultural approaches to health and wellness including the use of traditional medicines and healing practices. If you need professional help, it's important to research what's available in your area.
Below are more helpful physician certified online resources to help you calm yourself when needed.
15 ways to calm down
12 free apps to help you beat stress
Importantly, here are some great resources to share (or for personal use) during this time of self-isolation.
For Emergencies:
(Above all, please call 911 if you are experiencing a life-threatening emergency)
National Suicide Hotline: 1(800) 273-8255
SAFE Domestic Violence Hotline (US): 1(800)799-7233
Child Help USA Abuse Hotline: 1(800) 422-4453
National Youth Crisis Hotline: 1(800) 422-4673
General Mental Health Hotlines:

The Trevor Project: 1(866) 488-7386
National LGBT Hotline: 1(888)843-4564
Planned Parenthood: 1(800) 230-7526
Baby Support Haven: 1(888) 510-2229
Postpartum Support Hotline: 1(800) 944-4773
Rape, Abuse, and Incest National Network: 1(800) 656-HOPE
Substance Abuse Hotline: 1(800) 262-2463
Poison Control Center: 1(800) 222-1222
Stay well and be safe!