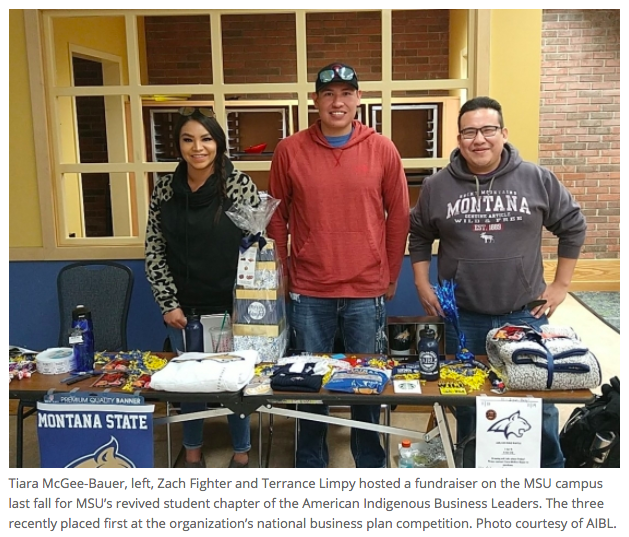 From MSU News Service BOZEMAN — A team of three students representing the recently reestablished student chapter of American Indigenous Business Leaders, or AIBL, at Montana State University recently took first place in a business plan competition at UNITY's national virtual conference in partnership with the National Center for American Indian Enterprise Development.

The MSU student team comprising Zach Fighter, Terrance Limpy and Tiara McGee-Bauer developed a business plan that focused on creating a sustainable business model for Turtle Island Tales, a research-based monthly shipment subscription program to help children and their families make healthy choices for their bodies, minds and spirits.
The team began working on the plan in December and completed it in March. They were planning to compete at the national AIBL conference in early April, but that conference was canceled due to the COVID-19 pandemic. The AIBL organization instead partnered with the United National Indian Tribal Youth, or UNITY, on virtual conference offerings, and that conference was held online July 23.
Fighter said the team learned a great deal from the experience.
"This was all our first time with the chapter and this was all a learning experience for us," he said. "We are excited to get things going this upcoming year."
Turtle Island Tales is a social entrepreneurial venture created by Dr. Alex Adams along with a team of researchers and Native advisers. Adams is also the director of MSU's Center for American Indian and Rural Health Equity, or CAIRHE. Adams and Eliza Webber, a research project manager at CAIRHE, reached out to MSU's AIBL chapter for support.
Webber said the business plan the students developed benefits Turtle Island Tales by providing the venture with an instructional guide for successfully growing the social enterprise.
"The plan identified unmet needs and potential challenges that may have otherwise been overlooked," she said.
For example, Webber noted that by working with AIBL, she and Adams were able to fine tune their target audience and develop appropriate marketing language tailored to their target groups. She added the student team was also a "tremendous help" in determining their program costs and developing financial projections.
The cost estimates the students provided through the business plan have also been helpful in planning implementation of the Turtle Island Tales program with Extension partners in Montana and South Dakota. Partners in both states are currently determining if they can pilot the program in one of their tribal communities, Adams said. She added that she and Webber hope to continue working with the AIBL students during the next academic year.
The AIBL chapter's main adviser is Monti Pavatea Gilham, program manager of the Caring For Our Own Program in the MSU College of Nursing. Pavatea Gilham said she started the first AIBL student chapter at Fort Lewis College in Colorado, worked in the national AIBL office while in graduate school at the University of Montana and later served as AIBL chapter adviser at Blackfeet Community College in Browning, where she was named adviser of the year. Laura Black, Virginia Bratton and Brooke Lahneman, all faculty members in the Jake Jabs College of Business and Entrepreneurship, also assist and support the chapter and its activities.
Fighter said that those advisers, along with Trevor Huffmaster, director of MSU's Blackstone LaunchPad, all provided valuable support and guidance.
"We are very lucky to have the years of experiences of our advisers and having Monti's previous experience as an AIBL adviser," Fighter said.
Pavatea Gilham said she was honored to assist with reestablishing the MSU AIBL chapter.
"AIBL has always been an interest of mine, with the combination of education, business and economic development for tribal communities," she said, and added that this year's team worked very hard. "We are already planning for the upcoming year and looking forward to recruiting new members, along with dedication to the next competition."
AIBL is a national organization that seeks to increase the representation of American Indians and Alaskan Natives in business and entrepreneurial ventures. Today, there are more than 75 chapters nationwide. MSU's student chapter is open to all students of any major. For more information, visit https://www.montana.edu/business/current-students/clubs/aibl/index.html.