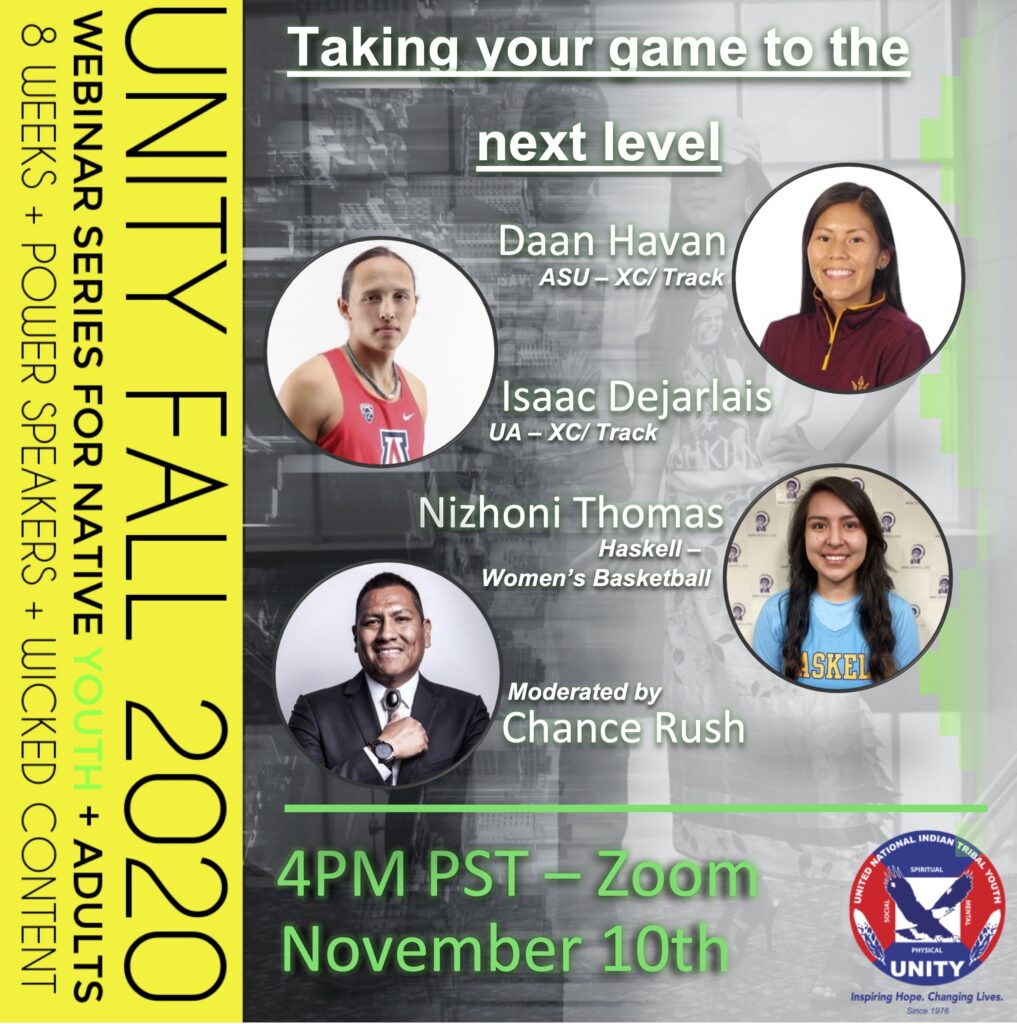 We all know Indian Country is full of athletic and talented Native Youth, but many will struggle in the preparation, transition and first years of college, not only as athletes but as students as well. Among the various webinar topics being present during UNITY's Fall Webinar Series, we want to dedicate one for our young student athletes.  
For this webinar, Chance Rush will be our host/moderator, and for our panel of athletes, we have Noni Thomas, Daan Haven, Isaac Desjarlais.
Key take-aways from this webinar will include the following:
1) Provide personal stories and advice for new and up and coming students and athletes.
2) Give insight to new resources for first year student and student athletes
3) Q/A with Native Student Athlete Panelist
The eight-week webinar series will be sponsored in part by Comcast NBCUniversal and Nike N7. A November webinar will be sponsored by Nike N7 as part of their commitment to National Native American Heritage Month.
"We are launching this series of webinars to engage with our communities on the topics that are most relevant to Native youth today, and to help adult leaders better engage and support them," said UNITY Executive Director Mary Kim Titla. "We want to thank our wonderful sponsors, Comcast NBCUniversal and Nike N7 for making these webinars possible."
Upcoming Youth Webinars during Native American Heritage Month: 
Tuesday, November 17, at 3 p.m. PST  / 6 p.m. EST– Nike N7 Collaboration – An Athlete Discussion with Nike N7 Ambassadors – Native American Heritage Month Celebration – click to register in advance
Tuesday, December 1, at 3 p.m. PST / 6 p.m. EST – Native Youth Perspectives on the 2020 Elections on Instagram
You can find more information on UNITY's fall webinar series at https://unityinc.org/webinars/