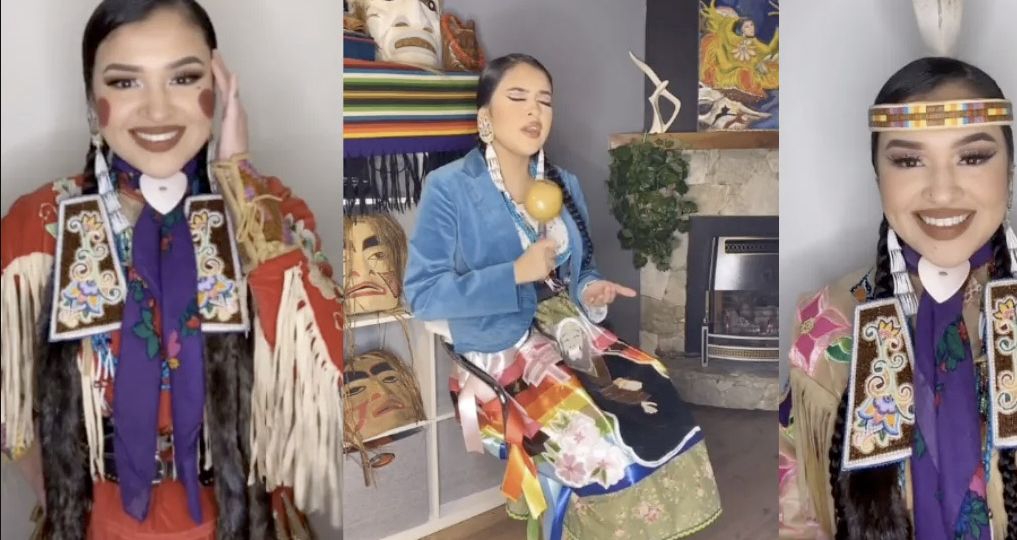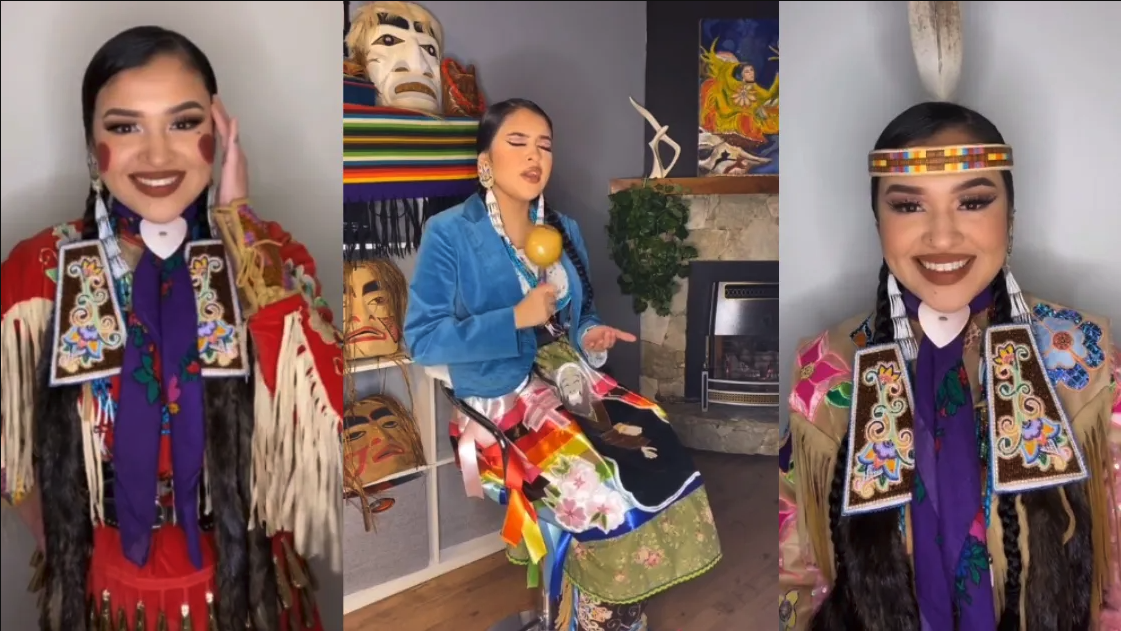 Read Original Article
by CHRISTIAN ALLAIRE According to Vogue: "TikTok is largely dominated by trending songs, dance challenges, and, overall, embracing creativity, but it's not as well known for its fashion scene. That being said, a stylish community is forming on the app—and Vogue is here to find the most inspiring, and most stylish, creators."
This week's must-follow account is Tia Wood (@tiamiscihk), a 21-year-old singer and creator based in Vancouver, British Columbia. Wood champions her Cree and Salish cultures on the app, using it as a platform to educate others about her people's history and traditions, through singing, informational videos, and doing Indigenous takes on popular TikTok trends (she recently took on the "Face Zoom" trend, popularized by Bella Poarch, in full Native regalia). Since joining the app in March, Wood has now collected more than 1.6 million fans.
Woods grew up on Saddle Lake Cree Nation in Alberta, Canada, where she quickly picked up singing and dancing, often performing with her family on the powwow trail. In both of Wood's Cree and Salish cultures, singing is often performed to the beat of a drum and performed in their traditional languages. On TikTok, Wood will sing songs her father composed or pieces she wrote herself. She's one of many Indigenous creators on TikTok who is proudly championing her culture, such as Cree dancer James Jones, who brings powwow dancing and educational videos to the app with more than 2 million fans.
Below, Wood talks how she learned to sing and dance, what her regalia wardrobe looks like, and which of her TikToks took the longest to make.
1. How has your Cree and Salish culture shaped you?
Growing up as both Cree and Salish was such a blessing, because I got to learn about two very different tribes and teachings, and combine them into one. In my mom's tribe (Salish), women are allowed to touch drums, but in some of my dad's tribe (Cree), they are not. Also, the food is amazing from both tribes! Salish has fish and berries, and Crees have moose, duck, deer, and rabbit, so I guess you can say I had the best of both worlds.
2. How has your content evolved on TikTok?
My videos were just for fun at first, but once I started gaining a following, I started noticing the lack of awareness among non-Indigenous people. Things such as cultural appropriation and issues happening inside the Indigenous community, and stereotypes in the mainstream media. So I began making content that was dedicated to educating about those topics.
3. What's your process for creating TikToks?
The process is super different with each video. Usually for the singing ones, I scroll until I hear a beat that I think I could work with, and I'll make like six different videos with different melodies until I find the one that fits the best. When it comes to all the other videos, I usually just wing it, unless it's inspired by another creator! But whenever I scroll through TikTok, I always try to think, How can I make this trend Indigenous? How can I incorporate the culture into it?
4. We do love that you put an Indigenous twist on TikTok fashion trends. What do you think will be your next trend that you do?
It's hard to say because whenever I do an Indigenized trend, it's usually super random, and I never really plan out my videos ahead of time. But I'm loving all the rising Indigenous fashion brands like B.Yellowtail, Jamie Okuma, Lauren Good Day, and many more out there I haven't even discovered yet, who are bridging the gap between Indigenous regalia and tradition with what it looks like to be a modern Indigenous woman in 2020 and beyond. I like to think that I am bridging the same gap in my music creation, and I hope to work with all of these fashion designers and stylists for my singles and album photo shoots, further social content, and music video treatments in the future.
5. Why do you think it's important to share your Indigenous culture on a platform like TikTok?