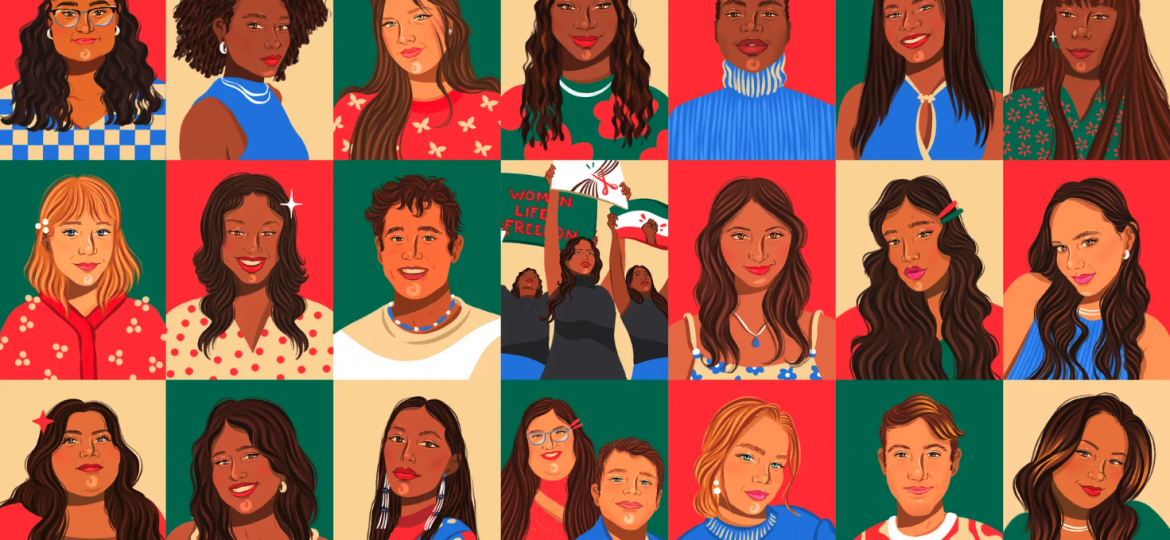 Congrats to Lily Painter & Sareya Taylor Named
Teen Vogue's 21 Under 21 2022: The Revolutionary Youth You Need to Know
So far, the 2020s have proven to be a time of great change, and the past year has been no exception. In 2022, we endured a third year of the COVID-19 pandemic, saw girls and young women fight for gender equality in Iran, watched as Russia escalated its invasion in Ukraine, protested after the Supreme Court overturned Roe v. Wade, and continued to fight for racial equality and social justice of all kinds.
Amid the hardship, however, has been immense hope — driven particularly by young people. Gen-Z turned out in droves to vote in the midterm elections, hampering the "red wave" predicted by the GOP; young LGBTQ people have fought back against homophobic rules in their cities and states; and groups like the ever-powerful Gen-Z for Change have made waves across activist spaces.
To honor their work and the lasting change young people have made this year, Teen Vogue presents our annual 21 Under 21, a list of changemakers, influencers, activists, and artists who have made a substantial impact in both their communities and the world.
But as we celebrate these young people, we also understand that we shouldn't have to — young people are too often upheld as the ones who will save the world, but it's a job that shouldn't necessarily rest on their shoulders. In our recent cover marking 10 years since the tragedy at Sandy Hook, March for Our Lives co-founder Delaney Tarr wrote about the gun violence crisis in America: "[The youth activist industrial] complex puts the focus on…the individual vs. the system, the youth vs. everyone who should bear responsibility for this crisis. And at what cost?"
So, as you read about and celebrate these extraordinary young people who are, no doubt, doing their part to save the world, ask yourself how you can help. We're in this together, after all.
Here are Teen Vogue's 21 Under 21 2022:
Tech Wizard: Alishba Imran, 18
By Sara Delgado
At only 18, Alishba Imran has carved a space for herself in the competitive (and male-dominated) world of machine learning, robotics, and blockchain. It all started when she joined her school's robotics team at 14, where, despite having zero programming experience, she became a lead programmer. Now a student at UC Berkeley, Alishba proudly wears a million hats — among them being the co-founder of Honestblocks and Voltx.
While on a service trip in India, she learned that a high percentage of medications in rural parts of the world are counterfeit. She taught herself blockchain coding and launched Honestblocks, a platform that tracks counterfeit medicine in the supply chain. Her codebase for the initiative has since been integrated into IBM and used globally. She then co-founded Voltx to accelerate the development of renewable energy storage devices using machine learning and physics models to accelerate the lab to commercialization process for electrochemical devices.
Everything Alishba has accomplished so far has been with a clear goal: Using machine learning as a tool to solve real problems. "The biggest thing you can optimize for in life is people," she says, offering some advice to fellow coders. "Spend time exploring your interests, what you're good at, and what brings you energy. I think the best things to work on are at the intersection of what you're good at, what you enjoy, and are a way for you to create value for the world."
Journalist for Justice: Anastasiia Lapatina, 21
By Versha Sharma
Anastasiia Lapatina was 20 years old and working at the Kyiv Post, Ukraine's oldest and largest English-language publication, when the entire newsroom was fired without notice in a move to shut down the staff's editorial independence. Days later, the staff started a new publication, the Kyiv Independent. Weeks later, in February 2022, Russia escalated its invasion of Ukraine — which began in 2014 — in a "special military operation" ordered by Russian President Vladimir Putin that included the bombing of the capital Kyiv and a large-scale ground invasion on multiple fronts.
Anastasiia has been documenting Russia's war on Ukraine every day since, both for the Independent and on social media, where her following has grown quickly. She is the co-host of two podcasts that regularly provide updates on what's happening in Ukraine, and she's finishing her final year at the University of British Columbia, where she studies political science.
"My biggest challenge is dealing with publicity while being young, and while watching my country [be] destroyed and my people killed every single day," Anastasiia says. "I probably won't ever overcome this challenge." In spite of that, she continues to work to tell the stories of Ukrainians whose everyday lives have been upended by Putin's bombs.
"If there was one message I could tell the whole world, it would be this – if Ukraine does not liberate all its territories from Russia, it will forever change global geopolitics and will make the world significantly more unsafe for everyone," Anastasiia says. "Helping Ukraine defeat a cruel dictatorship is in everybody's best interest."
Activist Extraordinaire: Anya Dillard, 19
By P. Claire Dodson
Activist and social entrepreneur Anya Dillard started her first advocacy project when she was just five years old: A mutual aid initiative called Anya's Holiday Gift Giving Charity. Now a student at Rutgers, Anya's activism journey has transformed into radical political spaces and become increasingly informed by her Black and Afro-Caribbean heritage.
She's organized campaigns to raise awareness and funds around solving the climate crisis, stopping gun violence, and ending poverty in the U.S. and globally. In 2020, after the police murdered George Floyd, she helped organize the largest civil rights demonstration in the history of her hometown of West Orange.
That work has not come without challenges. After the civil rights protest, she received her first death threats. Even earlier, as a 12-year-old activist, she was criticized for sharing her voice as a young Black girl. "All of these experiences tested my self-confidence in monumental ways," Anya says. Her advice for young people? Start small, be intentional, know your history, and own your right to be here. "You do not have to organize a 3,000-man march or shut down an administrative building at your school to make a major difference. Assess the needs in your own community and find ways that your friends and family can make a practice of contributing to them."
Justice Seeker: Cameron Samuels, 18
By Karissa Mitchell
Cameron Samuels is driven by the unjust policies that shape the lives of the marginalized, so when they noticed that their school was blocking access to LGBTQ websites, they spoke up. Then, when their school district banned certain books with LGBTQ content, Cameron knew what to do: They started packing school board meetings and organized a book drive for books with LGBTQ and BIPOC themes.
The drive was met with overwhelming support, which Cameron says reminds them why this tedious cycle of advocacy is crucial to building a better future for our youth.
"I see no reason why I would leave the realm of political advocacy as long as some in our world are privileged while others are marginalized," Cameron says. In addition to their hometown work, Cameron has also worked with the ACLU and NAACP for legal efforts, and they've even been recognized by President Barack Obama and LeVar Burton.
While they understand that it's not easy being a young person in a world dominated by those much older and often more conservative, Cameron is confident in the power of advocacy: "If we don't speak up against bigotry and stand up against discriminatory policies, then who will?"
Digital Educator: David Onilude, 20
By Aiyana Ishmael
Born in Badagry, Nigeria, David Onilude saw firsthand how underserved his community was. "Electricity, quality education, and basic human resources were often unavailable," he recalls. As a result, he says, "I found that I lacked basic 21st-century digital skills."
Because of what he called his "digital illiteracy," David says he often struggled in University and had to learn basic computer skills in order to keep up with his classmates. Seeing how important digital and media literacy was to those who don't have access, David took it upon himself to change the trajectory of many young people whose access to basic digital skills were limited. In 2020, David's initiative scaled into a non-profit organization called Tech Now Global. The organization is dedicated to eradicating digital illiteracy in underserved communities.
"Change has to begin in my community," David, a strong believer in community, says. He knows that moving as a united front is the best way to achieve your goals and serve your community.
Speaking to other young leaders, David encourages being bold.
"You don't have to ask for permission to take action," he says. "Starting something can be intimidating and spark feelings of uncertainty, but enduring the discomfort can lead to rapid learning, increased self-confidence, and a sense of meaning."
Mental Health Warrior: Davida Padi, 19
By Donya Momenian
Davida Padi says she "grew up comfortable with and drawn to the kaleidoscope of different cultures and languages that marked [her] youth." A child of Ghanaian immigrants, her background allowed Davida to see oversight and opportunity when the COVID-19 pandemic started during her junior year of high school.
Struggling with the circumstances, Davida noted the lack of resources available to BIPOC. So, she founded Eve's Corner, a digital community for Black girls to find scholarships, mental health services, and support. Her work was recognized by many, including the Biden-Harris Administration, a major feat for a self-described quiet child.
"Only when I began finding people who listened to young students and elevated their voices did I feel a true sense of belonging," she says. "But also, I owe a lot of my overall progress to Solange's A Seat At The Table album."
Now a student at the University of Scranton, Davida isn't done yet. "Hopefully, I will be working with Beyoncé as per my high school yearbook quote. But I want to continue my work with social impact and youth mentorship through creative storytelling and social media."
Young Powerhouses: Gen-Z for Change's Jack Petocz, 18 & Olivia Julianna, 20
By Lexi McMenamin
Gen-Z for Change had a busy 2022, and not just because of the election. They stuffed unionbusting job postings using code. Texan Olivia Julianna raised over $2 million for abortion funds after getting harassed online by Congressman Matt Gaetz. Floridian Jack Petocz organized Florida-wide walkouts over Governor Ron DeSantis and his administration's "Don't Say Gay" policy.
Both Petocz and Julianna shared how their marginalized identities guide their activism.
"When I was young, I struggled greatly with my sexual orientation and watched as bigots around [me] discriminated against LGBTQ+ people," Petocz recalls. For his organizing, Petocz was celebrated – earning them and Teen Vogue's youth activism award – and punished – getting suspended from school.
"I wouldn't have gotten more involved in direct political work and activism if it weren't for the Texas State Government," says Julianna, referencing the state's actions after the passage of the anti-abortion SB 8 law. She's now Director of Politics and Government Affairs for the group.
For those seeking to join Gen-Z For Change and their movement, Julianna encouraged empathy for yourself: "Never be ashamed of where you came from or your identities. Hold those memories and pieces of yourself close to your heart… Just remember that you are exactly who you are supposed to be and that you should be proud of it."
Bridge Builder: Gillian Johnson, 17
By Sara Delgado
Gillian Johnson first landed upon the idea of Recovery Meet-Ups — an initiative that brings together high schoolers recovering from disordered eating during moderated monthly virtual meetings — after participating in a social entrepreneurship program. However, it wasn't until she tapped into her own recovery experience that the program took its final form.
In the summer of 2021, after being discharged from a partial hospitalization program, Gillian found herself in an uncomfortable position having to navigate the worlds of outpatient care and school. "There was a large gap between those two worlds and, consequently, a rift in my identity," she says. "Recovery Meet-Ups became the avenue for me to bridge those two worlds through normalizing disordered eating recovery at all stages and to promote an interdisciplinary perspective on mental health."
Now, as she prepares for college, Gillian has her gaze set on political science, history, and law as desired professional avenues. However, she says she'd like to "continue building upon formative experiences, like receiving treatment and persevering through my [eating disorder], to inform my perspective and plans for years to come."
For anyone wanting to affect change in their communities, Gillian has a piece of advice: "Utilize your leadership skills and grow your empathy to identify who is not present in the room, and make room for that person."
Freedom Fighters: Girls of Iran
By Allegra Kirkland
"Woman, life, freedom." This is the rallying cry of a protest movement, led largely by teen girls and women, that has rocked Iranian society since September. Across the country, demonstrators have taken to the streets, burning their hijabs, cutting their hair in public, and destroying photos of Iranian Supreme Leader Ayatollah Ali Khamenei. The inciting incident was the death in police custody of Mahsa Amini, 22, who was arrested for "improperly" wearing her hijab. But the demonstrations erupted into a broader outpouring of discontent. As the slogan says, the movement is calling for gender equality, freedom from prosecution, and the fall of the Islamic regime.
At tremendous personal risk, young women have kept the protests going for more than two months. According to NPR, the U.S.-based organization Human Rights Activists in Iran found that more than 450 protesters have been killed since the demonstrations began, and more than 18,000 people have been detained. As one Tehran-based protester told Teen Vogue, "Women are at the forefront of this movement whether they are joining in the streets, recruiting, or making food and weapons for protesters at home…We will not back down until we're free."
Accessibility Ace: Isabel Mavrides-Calderon, 18
By P. Claire Dodson
It didn't take long for Isabel Mavrides-Calderon to see the glaring access gaps in the healthcare system, especially for women of color. She became disabled at 11 years old, and in the years that followed, she began thinking about how she could improve public policy and approach disability rights through an intersectional lens. The result was a social media movement called Powerfully Isa that has raised awareness for disability justice.
"Over time, I started realizing that every time I was given an accommodation or was in a space with accessibility, I was able to accomplish my goals, and frankly, to live like a regular teen," Isabel says. "It made me realize that my body is not a barrier; society's lack of access is."
Now a senior in high school, Isabel has worked with the ACLU to host panels and organize policy-changing campaigns; she also serves on the Patients Rising Diversity and Inclusion Council, has been an accessibility consultant for Target, and has worked with New York City public schools on remote learning accessibility.
She wants people to know this: "Being disabled is neither inherently tragic nor inspirational. Disabled people don't need your pity. We need you to accept and celebrate us for who we are. By creating a more accessible world for disabled people, we create a better world for EVERYONE."
Poet for Change: Isabella Hanson, 16
By Kaitlyn McNab
Activist and artist Isabella Hanson was only 14 when she founded the "I Matter" poetry and art competition. The project was Isabella's reaction to racial injustice and violence in America, specifically, the 2020 killings of Breonna Taylor and George Floyd. In the two years since its creation, "I Matter" has featured judges from the NBA and NFL and reached youth in 47 states, and across the world. "I was speaking at a YMCA West Coast staff conference recently in San Diego, and I met someone who is connecting me to my three missing states," Isabella says.
Isabella's overall mission is to uplift youth through the combined power of creativity and social justice. The young visionary's bright plan for her future includes starting college this coming fall with a major in English, and ultimately becoming an editor at a major publication. Isabella's writing dreams don't stop there — she also hopes to pen a novel or book of poetry from the point of view of her ancestors, pre-Emancipation Proclamation.
Isabella is aware that life is nothing without obstacles, but she has an affirmation for herself, and for you: "You are a divine goddess who is capable of channeling power to change the world!"
Gender Advocate: Kai Shappley, 11
By Brittney McNamara
When Kai Shappley entered kindergarten, her home state of Texas was attempting to ban trans youth from using the bathroom that corresponds with their gender identity. She started puberty just when the state tried to ban trans kids from accessing gender affirming care. Since she came out as trans, Kai says she has had no choice but to be an activist.
"Transgender people consistently have to advocate for themselves just to exist," Kai tells Teen Vogue. "I don't think I know a single trans person who isn't an activist in some way."
Kai and her family no longer live in Texas, forced to leave because they say it's not a safe place for trans people. Still, she spends her youth fighting for a better world: She's testified before the Texas Senate, has spoken at Pride rallies, has met with lawmakers to advocate for trans rights, and was the subject of the ACLU and them's Emmy-winning documentary, Trans in America: Texas Strong.
Beyond her activism, Kai has a passion for acting and impeccable taste in role models.
"Ten years from now I will be a famous actress and I will enjoy equality in America," Kai says of her future goals. "I will also have Dolly Parton's personal cell phone number."
Safety Advocate: Kayla Austin, 19
By Jewel Wicker
A former Girl Scout, Kayla Austin was looking for a way to serve her community in her native Chicago-area as a pre-teen when she first decided she wanted to tackle gun violence. Her research showed her that millions of children live in homes with unlocked and loaded guns. Kayla didn't exactly need the research to show the impact this had on families, either. Her own Aunt Jackie had accidentally shot herself in the hand with her grandfather's gun when she was just 3 years old.
By age 13, Kayla had filed for a patent (it's currently pending) for a gun safety device and application she created to allow adults a way to monitor firearms and keep them out of the hands of children. Using an application and hardware device, My Gun's Been Moved notifies gun owners if their firearm has been accessed and allows them to take action.
A sophomore at Howard University in Washington, D.C., Kayla is currently juggling her television and film studies (she creates under the name "Kayrox") with the demands of managing a startup as a young Black teenager. Recently, she was awarded $25,000 by Pharrell Williams' Black Ambition Prize, providing necessary funding for her work but also the mentorship she's craved working in the white cis-male dominated tech industry.
Perspective Changer: Lea Nepomuceno, 17
By Aiyana Ishmael
Growing up, Lea Nepomuceno says her perspective on incarcerated people was skewed by the media. When she joined the Social Fabric Initiative — a program for youth to design and implement community change projects — and met with formerly incarcerated people, Lea says she gained clarity that this population isn't inherently bad or violent, they're just people. Lea co-founded Youth For Juvenile Justice Reform, an organization aimed at shattering stigma around formerly incarcerated youth.
In addition to that work, Lea hosts Evidence for Change, a podcast interviewing students across the country about how to improve policies around gun violence. Lea is certainly passionate about her advocacy, but it's her clear mission that she says will payoff.
"Passion without purpose yields the worst results," Lea says. "By first identifying the purpose of your advocacy, you cultivate a much more focused path to make a difference in your community and beyond."
Through her continued work in the community, Lea hopes to one day become a congressional correspondent with an emphasis on criminal justice, and possibly a public defender. Either way, she plans to spend her time empowering the social consciousness of her generation.
Voice for the Missing: Lily Painter, 21 – UNITY 25 Under 25 Awardee
By Brittney McNamara
When she was in sixth grade, Lily Painter's mom sent her a text: "I don't mean to scare you, but you're a young native woman…and you fit right into the population of those sought after by sick people." For women living on reservations, the murder rate is 10 times the national average, and native women face disproportionately high rates of sexual violence.
"You grow up hearing about things happening to the women in your community, but that [text] was when I really connected all the dots," Lily, a member of the Kiowa Tribe of Oklahoma and the Winnebago Tribe of Nebraska, says. Her mom's text launched her activism for Missing and Murdered Indigenous Women, Girls, and 2Spirit+ people (MMIWG2S+).
As a Remembering our Sisters fellow through the Center for Native American Youth, Lily created matriarch medicine, a platform dedicated to storytelling and healing for MMIWG2S+. She's also uplifted these stories through her platform as 2023 Miss Indian Oklahoma.
In uplifting the voices of MMIWG2S+, Lily wants her audience to know that she isn't just telling stories of struggle, but of strength. "No one can speak to our problems like us, but more so, no one can speak to our strength and our resilience and our healing like us."
Solution Seeker: Maisie Brown, 21
By Jewel Wicker
Maisie Brown recently started to question a long standing norm in her life. Growing up in Jackson, Mississippi, she was used to the boil water advisories that would lead to the water fountains at school being covered with trash bags. It wasn't shocking, then, when earlier this year Mississippi Governor Tate Reeves issued what would become a three-month-long state of emergency after decades of issues with the city's water system and recent flooding left many without safe drinking water.
In Jackson, where more than 80% of residents are Black, the water crisis drew anger from residents, including Maisie. Leaning on her collegiate studies, she sought out the gaps in the city's water distribution sites and created a plan to get water to vulnerable communities. With the help of her Jackson State University peers and other volunteers, she delivered more than 50,000 bottles of water city-wide to more than 300 households.
Maisie has juggled volunteering, calling out local politicians, and her studies while becoming a parent for the first time and accepting daily responsibility for someone outside of herself. "While that may sound like common sense when having a child, putting it into action is much different – especially when you don't feel like you have yourself figured out," she says.
Food Fighter: Megan Chen, 19
By Kaitlyn McNab
Put simply, Megan Chen wants to save the world. "Change can take place as quickly or slowly as we choose it to," Megan says. "With the sheer amount of knowledge at our disposal on a continuous basis, it is up to us to take that knowledge and turn it into positive, tangible impact."
The environmental activist is doing just that with her nonprofit, The Urban Garden Initiative (TUGI for short), which she founded when she was just 15 years old. "Growing up right outside of a major food desert community, I was able to … see firsthand the impacts that climate change can have on urban environments and the disproportionate inequalities that were created for low-income and BIPOC communities," says Megan.
TUGI aims to inspire youth to achieve urban sustainability through a gardening-based program. Through TUGI, Megan has educated and worked with thousands of students around the globe to build regenerative agricultural systems in urban areas. Megan is currently an Urban Studies and Earth Systems major at Stanford University, and envisions herself designing innovative and intersectional climate solutions well beyond graduation.
"I also want to ensure that communities of color and front-line community voices are continuously put at the forefront of the climate movement," she says, "and the solutions that are being built."
Born Activist: Sareya Taylor, 20 – UNITY 25 Under 25 Awardee
By Allegra Kirkland
Sareya Taylor was born an organizer. Coming into this world "as an Indigenous woman has already positioned me in an 'activist' role," she tells Teen Vogue. At only 20, the Institute of American Indian Arts student and Inaugural Youth Poet Laureate of Phoenix has become a powerful advocate for her community.
"Our history and how colonialism has affected our peoples is a major factor in why I do my work," she says. "I want this world to hold my siblings and future youth kindly." That work has involved everything from delivering PPE kits to her reservation during the COVID-19 pandemic to serving as a member of the Advocates for Young Women's Reproductive Justice Council and the National Coalition for Sexual Health Adult Advisory Group, where she helps educate her peers about sexual health.
Sareya sees poetry as part of her advocacy, too. Telling stories about her White Mountain Apache/Diné community is another way to share their resilience and power with the world. "Winning for me does not mean publishing, having thousands of followers, or making tons of money," Sareya says. "Winning to me looks like writing about cherry days, buying dinner for my grandma or auntie, laughing with my friends. Find out what 'winning' looks like for you and strive for it as much as you can."
Political Activist: Shiva Rajbhandari, 18
By Lexi McMenamin
Shiva Rajbhandari may not have always planned on getting elected to his Boise, Idaho school board – let alone going up against a candidate endorsed by a far-right group – but he's always been up to something.
"As I grew in my activism, I began working for tribal justice, voting rights, and gun violence prevention," Shiva, who started off working in climate activism, explains. "After a two-year long campaign to create a clean energy commitment and long-term sustainability plan in our school district, I decided to run for the school board."
Now, Shiva is an elected leader himself – which doesn't leave a lot of time for being 18. "The biggest challenge I've faced has been creating space for myself and my friends to rest and have fun. Sometimes, we feel like Atlas, the whole world resting on our shoulders," says Shiva. "Adults tell us, 'your generation is going to save the world.' That's a lot of pressure!"
It makes sense that the primary message he wants to impart to his peers is to keep things in perspective. "Activism takes place at the intersection of your interests, your skills, and your community's needs. From artists to writers to speakers to scientists, there is room for everybody in our movement," Shiva says.
Positivity Queen: Spencer Barbosa, 19
By Karissa Mitchell
Since she was nine, Spencer Barbosa has had hopes of being well-known online. A decade later, she's definitely accomplished that goal, but her younger self couldn't have imagined she'd be internet famous for being quite so vulnerable.
When Spencer began to share her struggle with confidence online, those who could relate gravitated to her profile. She posted about her insecurities and body image struggles, and quickly found out she was not alone. That's when Spencer noticed this issue was bigger than her, making it her mission to help others win their battle with self-confidence.
"I can't believe my whole life I was terrified of what people thought of me," she says. Now, Spencer is known for her body acceptance and positive attitude. Spencer encourages her followers to be loud, annoying, cringey, and bold if that's their personality. In other words, be you — no matter who you are.
Beyond her social media success, Spencer owns a size-inclusive clothing brand called "Something Bigger." And, she has even bigger goals for her future: She plans to teach self-confidence, modeling, join the fight against period poverty, and more.
"I'm like, 'what can't I see myself doing?'" Spencer says. Spencer stresses that how we talk to ourselves is the foundation of our self-worth. She wants her peers to remember that, "YOU MATTER. Talk to yourself like someone you love."
Multi-Hyphenate: Sridevi Krothapalli, 17
By Donya Momenian
Exercising both the left and the right side of her brain, Sridevi Krothapalli has made major moves in science and the arts at just 17.
A physics pro, Sridevi was selected to attend the Stanford Program for Inspiring the Next Generation of Women in Physics hosted by the Stanford Physics Department and the Kavli Institute for Particle Astrophysics and Cosmology.
"By applying coding skills to physics-based projects in environmental engineering and tutoring other students in physics-oriented topics in my community, I realized my ambition to break the gender gap in the field of physics and mathematics," she says. "I hope to pursue making scientific discoveries that will better the lives of others all over the world."
Likewise, her talents in art, literature, and philanthropy have allowed her to realize her devotion to other causes as well. She founded and still serves as the president of her student-led non-profit, Kahani, which distributes literary and art magazines to children's hospitals around the world so patients can enjoy them. At such a young age, Sridevi's work may all seem complex, but she explains, "For me, kindness and love have been a guiding force to speak what comes to heart and incite positive change."