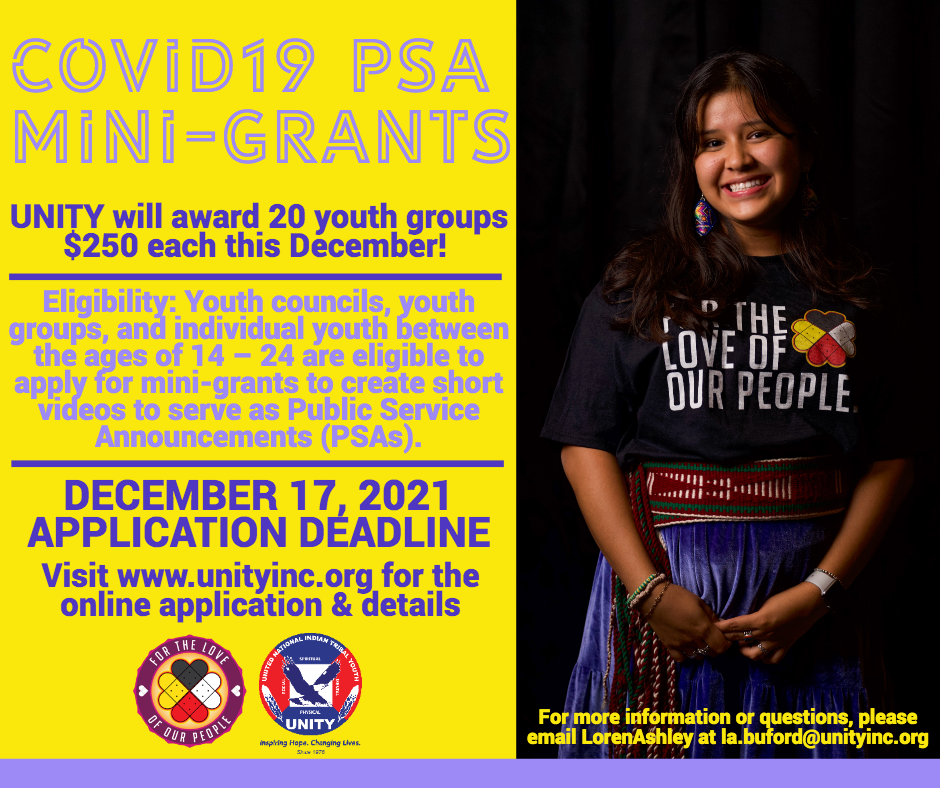 UNITY will award 20 youth groups $250 each this December! 
We are partnering with IllumiNative to continue to raise awareness around the benefits of COVID-19 vaccines for Native youth. We are seeking youth groups and individuals to address the challenges community organizers are facing in reaching younger Native people about vaccines.
Click here to Apply to receive $250 to create a PSA video encouraging Native youth to get vaccinated. 
What is a PSA?
A public service announcement (PSA) is a short, community-oriented message to to serve the public interest. This is a great opportunity to raise community awareness on a topic of concern. The goal is to create short, impactful, and educational videos that can be shared on Youtube and online platforms.
Eligibility:
Youth councils, youth groups, and individual youth between the ages of 14 – 24 are eligible to apply for mini-grants to create short videos to serve as Public Service Announcements (PSAs).
What to Include in your video?
If a group project, multiple youth should have speaking roles.
Include at least two facts from the CDC website on Covid-19 and recommendations to stay safe.
Include the following phrase:

 "Stay safe, Get Vaccinated, For the Love Of Our People"

Follow these Messaging Guidelines:
COVID-19-Vaccination-Messaging-Guide_UIHIFormat
Selection Criteria:
Candidates for mini-grants will submit proposals to develop Public Service Announcements (PSAs) to promote COVID-19 vaccinations and safety. A selection committee will use a grading rubric to judge proposals and select finalists for the mini-grants.
Training:
Mini-grant awardees will be required to attend one PSA Development Training, which will ensure the successful completion of their projects.
Timeline:
December 6, 2021 Mini-grant announcement and application launch
December 17, 2022 Application Deadline
December 20, 2022 Application Review completed
January 1, 2022 Announcement of Mini-grant recipients
January 3, 2022 Online Training for PSA Projects (Recording available online)
January 31, 2022 Deadline to submit PSA
February 25-27 All PSAs shared at UNITY Midyear Conference
For more information or questions, please email LorenAshley at la.buford@unityinc.org