In her inspiring workshop at this year's National UNITY Conference in Minneapolis, Minnesota, guest speaker Willow Blythe-Carroll shared powerful words of encouragement to Native youth in attendance. "I was honored to share my own personal story and lessons learned throughout my life and career to encourage others to embrace their authentic selves and stand boldly in their truth." (Black and white images above are Willow at the 2022 AISES Leadership Summit, credited to AISES)
Imagine nearly 2,000 Native youth from around the country listening to powerful messages for five days at the National UNITY Conference in Minneapolis, Minnesota, presented by the Fort McDowell Yavapai Nation. That was the goal when United National Indian Tribal Youth, Inc. hosted its annual conference on July 8-12, 2022. 
"This year's conference was an outstanding success. To see nearly 2,000 Native youth come together for celebration and learning was a beautiful experience," said Mary Kim Titla, UNITY Executive Director. "Everyone who attended came away with not only wonderful memories but also new skills and knowledge that will help them to develop as leaders."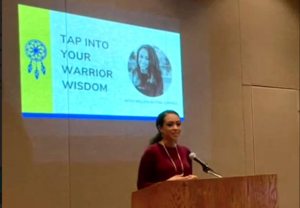 Native American and Alaska Native youth and advisors from rural and urban tribal communities participated in captivating educational workshops that emphasized Native American storytelling, culture, and skill sets, as well as listened to impactful panels and guest speakers.  
As a part of the workshop led by Willow, Native youth had a unique opportunity to engage and receive a powerful invitation to embrace their "inner warrior" and tap into their own power. In sharing her story and message focused on the restorative power of hope and healing, Willow encouraged attendees with one important takeaway: "Our circumstances do not define us, and we each have the inner wisdom to change our trajectories through choice and action." 
She closed by saying "when we are intentional about embracing our authentic selves, and all the vulnerable parts that make up our uniqueness, that is when we are the most powerful and wise, able to persevere through adversity."
About the "Warrior Wisdom" Workshop:
This inspiring and empowering workshop supported Native youth by helping them to:
–  Recognize and embrace their leadership power within and lean on the wisdom of Indigenous values for purpose and direction.
– Explore core principles rooted in Indigenous heritage to help them tap into their own "Warrior Wisdom" and unleash their leadership potential.
– Learn about leadership qualities that illustrate what it means to be an authentic leader, as well as techniques to strengthen their personal growth, advance career success, and build a brighter future through purpose-driven intention.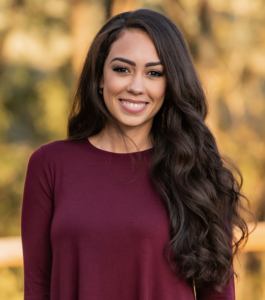 Willow Blythe-Carroll — an enrolled citizen of Muscogee (Creek Nation) — is a trusted and experienced storyteller among both nonprofit and Fortune 500 global corporations. Inspired by her vision of uplifting and empowering youth and emerging leaders to become a generation of hope and healing, Willow is using her influence and experience to breathe life into that vision.
She is committed to using her experiences and learnings to pour into communities, youth, and professionals through mentorship and inspiring change. She is also dedicated to empowering Indigenous people and other groups who have been historically underrepresented in their pursuit of achieving healing and personal fulfillment goals.
Willow is an inspirational and philanthropic leader who uses her authentic passion to create opportunities for those who cross her path to flourish and thrive.
For more information or to connect with Willow Blythe-Carroll, visit willowblythe.com.