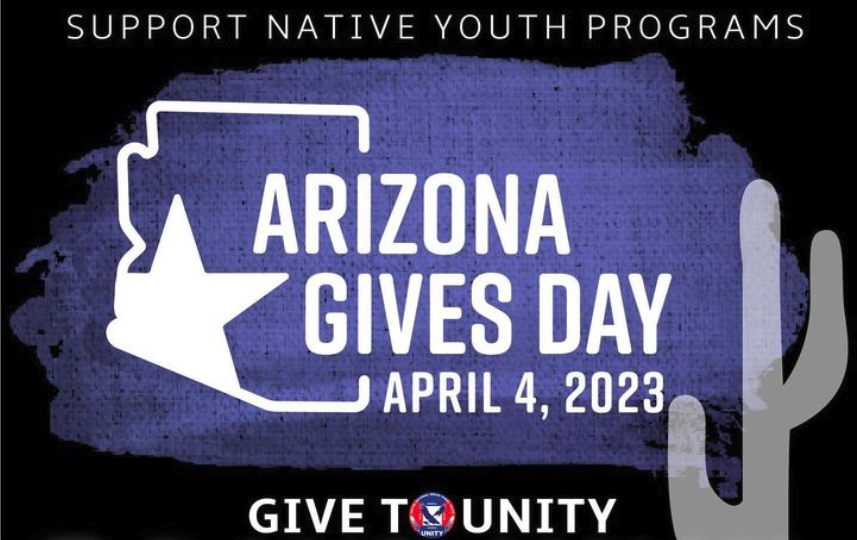 On Tuesday, April 4th, this day of giving aims to harness the collective power of individuals, communities, and organizations to encourage philanthropy to support Arizona non-profits. This year all funds raised will support the National UNITY Conference, Youth Programing, and registration scholarships for deserving Native youth.  Take time to make a contribution to UNITY to support its National UNITY Conference and allow an opportunity for more young people to attend and participate.
Why Support UNITY with your Donation? "Native youth are often left out of the discussion when organizations plan training and create programs to meet the needs of young people," said Mary Kim Titla, UNITY executive director. "Our conference is youth-led, meaning they serve as emcees, moderators, and presenters—providing a hands-on experience in leadership development."  With the support of donors from across the country on April 4th, UNITY will be able to broaden our impact to reach even more Native youth leaders who may not necessarily have access to funds to attend.
Each year, Native American and Alaska Native youth and advisors from rural and urban tribal communities across the U.S. come together for learning, cultural sharing, and collaboration. They receive training, gain knowledge, participate in quality personal growth experiences, and receive encouragement to apply their gifts and talents to self and community betterment within a supportive/safe environment.
This year's Arizona Gives Day takes place during a 24-hour period, so don't miss your chance to give to Native youth. The Arizona Gives program is run by the Alliance of Arizona Nonprofits + Arizona Grantmakers Forum. The event was started in 2013 to connect people with causes they believe in and build a lasting, stronger spirit of philanthropy. Since its inception, Arizona Gives Day has raised nearly $36.4 million for nonprofits statewide.
The generous donation from Arizona-based Titan Facilities Services, LLC, will be awarded to three college students in July 2023 at the National UNITY Conference in Washington, DC. You can join our UNITY family of supporters by taking action today.