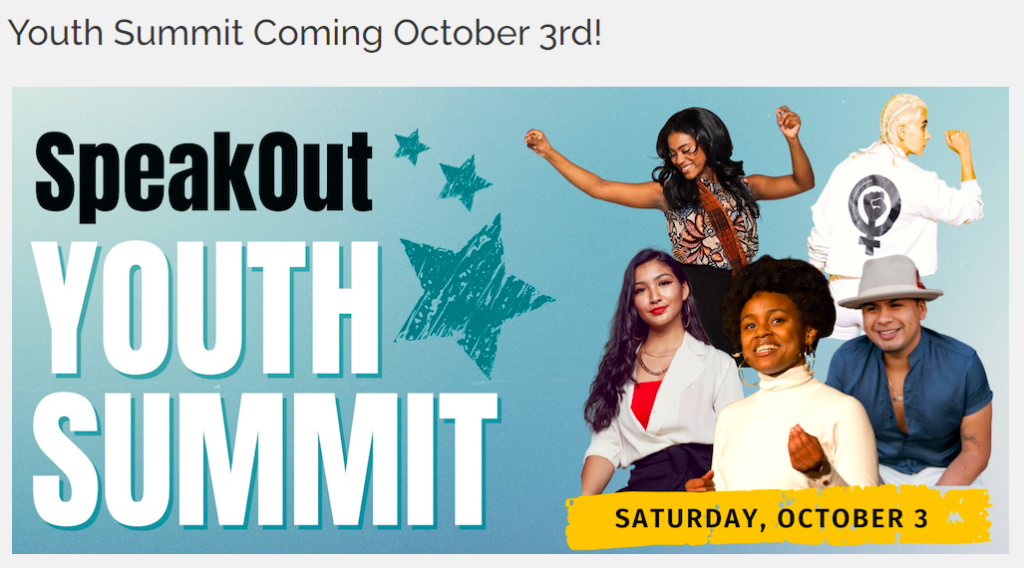 Help support UNITY's partners at NEA by spreading the word on this opportunity for Native Youth!  Calling all young people in college, high school, and the community! We're coming together for an empowering day curated by SpeakOut – The Institute for Democratic Education and Culture.
GET YOUR TICKETS HERE – JUST $20!
Join us as we envision a just and equitable future:
• Learn from today's leading youth activists and changemakers
• Hear from inspiring and iconic speakers and artists
• Connect with peers around the country…and the world!
• Get tools to build your capacity to lead and make a difference
We are redefining what society can look like, now and post-pandemic. It's time to tap into our power, build together, and speak out!
SATURDAY, OCTOBER 3 • 9:00 AM – 5:00 PM PDT // 12:00 PM – 8:00 PM EST
VIRTUAL WORKSHOPS • INSPIRING KEYNOTES • PANELS • LIVE PERFORMANCES! RACE, POWER, PRIVILEGE • DISTRUPTING WHITE SUPREMACY • ACTIVATING OUR POLITICAL POWER • MAPPING OUR SOCIAL CHANGE ROLES • BLACK LIVES MATTER • INTERGENERATIONAL CONVERSATIOS • BLACK LIBERATION LEADERS PANEL • WRITING WORKSHOP • MEDITATION AND WELLNESS • HIGHER EDUCATION • CLIMATE JUSTICE • INDIGENOUS AND NATIVE AMERICA • COURAGEOUS CONVERSATIONS FOR WHITE PEOPLE • COURAGEOUS CONVERSATIONS FOR NON-BLACK PEOPLE OF COLOR • INTERSECTIONALITY • HIGH SCHOOL HANG OUT • EDUCATION • CULTURE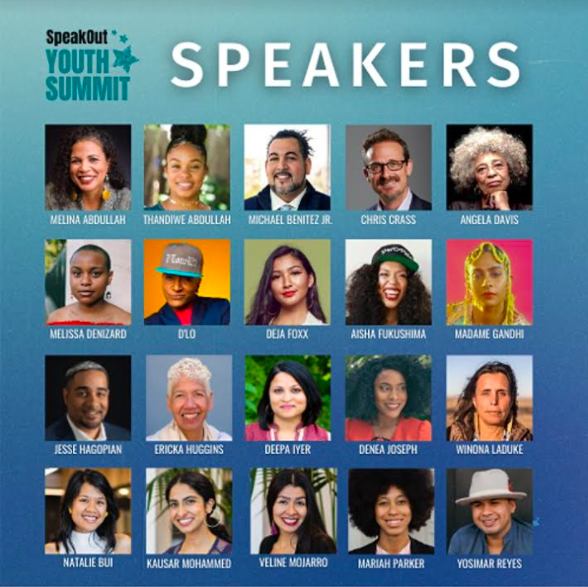 GET YOUR TICKETS HERE – JUST $20!
For groups of 50 or more,
or you have other questions,
contact programs@speakoutnow.org