The Southwest Region consists of geographical areas and the states of New Mexico and Colorado. The Western region has 24 affiliated youth councils in 2 states within the UNITY Network.
2022 SPRING SOUTHWEST VIRTUAL MEET-UP
2021 Fall Southwest Virtual Meet-Up
UNITY News: Western Updates
Southwest Regional Representative: Derek Capitan
Derek Capitan is an enrolled member of the Laguna Pueblo and is also affiliated with the Navajo Nation . Mr. Capitan is the Southwest Regional Representative to the National UNITY Executive Committee.
SOUTHWEST REGION
Derek Capitan, Southwest Regional Representative
National UNITY Council Executive Committee
Welcome to the Southwest Regional UNITY Page: UNITY's Southwest Region consists of New Mexico and Colorado. The Southwest is rich in culture, languages, and history, as well as natural and historic sites, parks, and forests. Sites of interest in our beautiful region include Dinosaur National Monument, Sand Creek Massacre National Historic Site, Yucca House National Monument, Arapaho National Forest, Gila, Puye, and Mesa Verde Cliff Dwellings, Cibola National Forest, Kasha-Katuwe Tent Rocks National Monument, White Sands National Monument, El Morro National Monument, and Pecos National Historic Park, among so many other breathtaking locations. Colorado is home to two federally recognized tribes, Southern Ute and Ute Mountain Ute, although our Apache, Comanche, and Shoshone relatives have historically belonged to Colorado lands. 23 Indigenous nations call New Mexico home including nineteen Pueblos: Acoma, Cochiti, Isleta, Jemez, Laguna, Nambe, Ohkay Owingeh, Picuris, Pojoaque, Sandia, San Felipe, San Ildefonso, Santa Ana, Santa Clara, Santo Domingo, Taos, Tesuque, Zuni and Zia; two Apache Nations: Mescalero and Jicarilla; the Navajo Nation with bands in Alamo, Rahma, and To'hajiilee; and one sister Pueblo in Texas, Ysleta del Sur. Languages in our region include Ute, Keres, Tiwa, Tigua, Tewa, Towa, Navajo, Zuni, and Apache. Our Indigenous communities value education and place high importance on learning our languages. There is at least one pre-school or day care program in each community that is taught in that respective language. In our region, you can find language immersion schools and tribal colleges and universities. Scholarships make higher education possible, and we are proud to be the home region of the Cobell Scholarship and the American Indian Graduate Center, both of which provide hundreds of thousands of dollars to Indigenous college students every year.
Biography of Southwest Regional Representative, Derek Capitan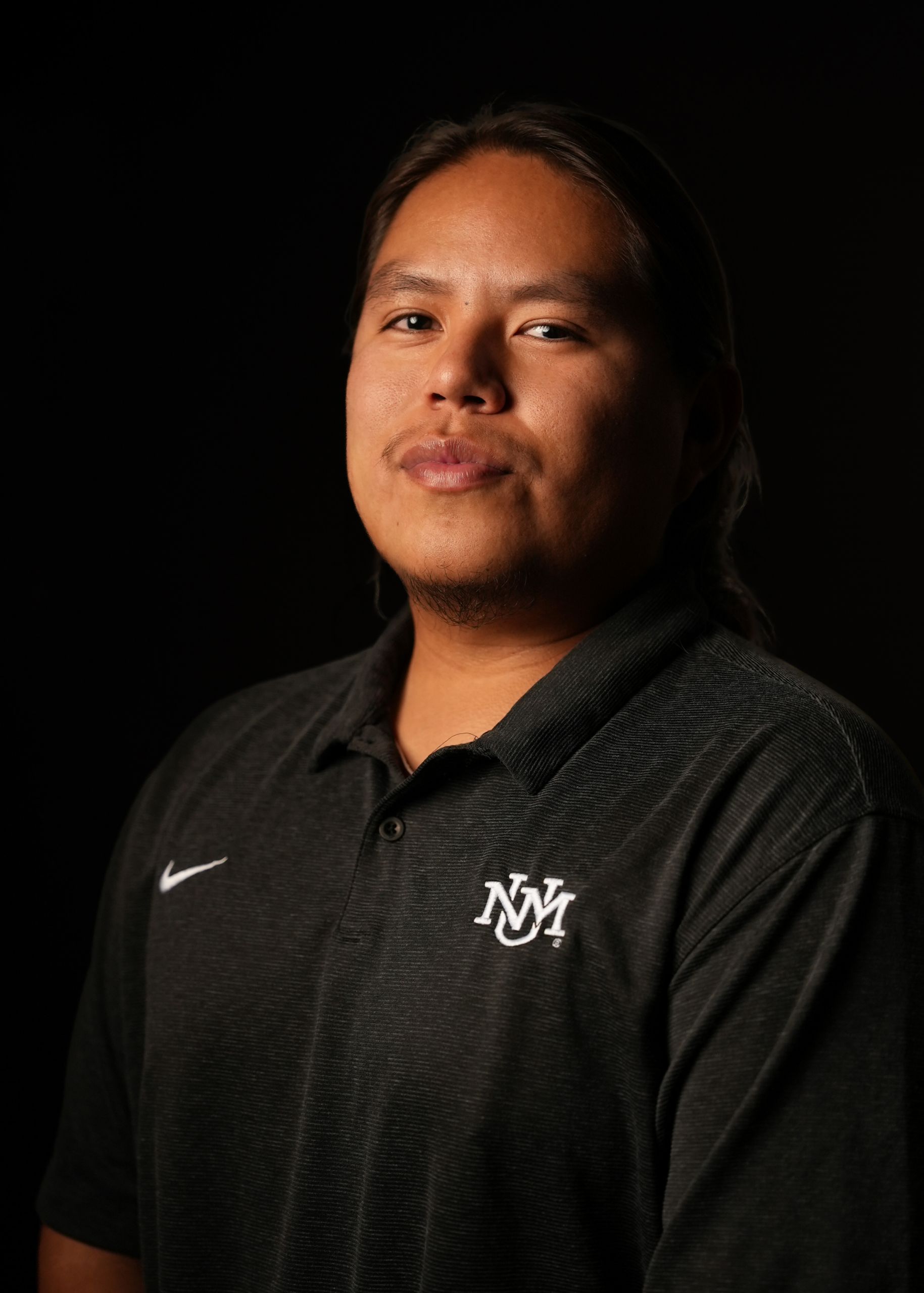 Derek Capitan (Laguna/ Navajo) is from the Laguna Pueblo of New Mexico. He is attending the University of New Mexico (UNM) pursuing a degree in environmental engineering. His interest lies within assisting communities on identifying healthy solutions to agricultural and water treatment practices. Derekis involved with UNM's Center for Water and the Environment,    conducting research on Indigenous Lands that have been impacted by mining legacy. He is proud to be helping his people and he hopes to deliver results that will guide them to a promising future. Derek also involves himself in other school clubs dedicated to academic excellence and volunteerism. Derek, who is now a part of the United National Indian Tribal Youth Council (UNITY), serving as representative of the Southwest region, is looking for yet another challenge as he looks to lead Indigenous youth to promising opportunities. His passion is his youth as he believes that they are future leaders of tomorrow. He believes they hold a special gift in which his goal is to help them find that. He is looking forward to the exciting journey that lies ahead.
SOUTHWEST REGION
Derek Capitan, Southwest Regional Representative
National UNITY Council Executive Committee
Southwest Region Youth Councils
Four Corners UNITY Youth Council
Mile High Youth Council
Pike's Peak Intertribal Youth
Northern Colorado UNITY Council
San Ildefonso Youth Council
Youth Ambassadors Program, Americans for Indian Opportunity
Albuquerque UNITY Youth Council
Zuni Honoring Nativel Life Leaders
Navajo Prep Naataanii Youth Council
Crownpoint Dine Youth Council
Kirtland Central Dine' Youth Council
Unity Advisor Page
Tamaya Youth Group
Ohkay Owingeh Boys & Girls Club
Crownpoint Navajo Dept. of WF Dev.
Kewa TRUTH Youth Council
Native American Youth Empowerment
Jicarilla Apache Youth Council
Dine'/Navajo Heights Dine' Yazhi' Youth Council
Mescalero System of Cave
Naat'aanii Yazhi Youth Council
Northern Navajo Agency Doolii Youth Group
Pueblo of Tesuque Youth Coalition
Pueblo of Zia
Wingate High School

Crystal
"Being here with UNITY is such a great experience. You get to meet so many new people and learn more about different tribes and their cultures.""

Marisa
"The gathering, the sharing of cultures, the UNITY of our people!"

Greg
"Our YOUTH is the future!"

Fefe
"It's the best place to be open about what you think and what you want to do for your school or community. They make you feel like family and welcome you openly."

Darlene
"Great organization that allows empowerment for the Native youth to excel in leadership skills, networking opportunity, and early professional growth."

Kay
"Awesome for youth group & leadership."