The Indigenous Wellness Program would like to wish you and your loved ones a happy Heart Month! We're looking forward to spending a new year with you and your families. We encourage you to attend our upcoming events this month and be on the lookout for future videos on our social media platforms.
The Indigenous Wellness Program would like to acknowledge National Nutrition Month, an annual campaign created by the Academy of Nutrition and Dietetics. During this month, we're encouraging everyone to learn about making informed food choices and developing healthful eating and physical activity habits.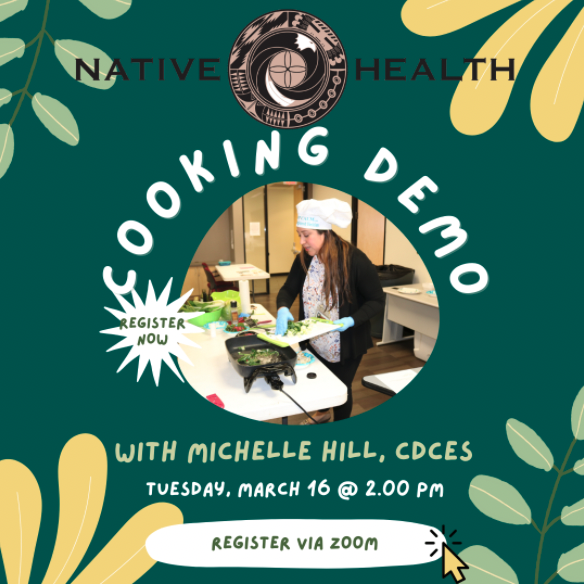 Celebrating flavors from a variety of cultures or even trying ancestral foods is a great way to nourish ourselves and reconnect us to ancestors. Each week the Academy of Nutrition and Dietetics will be have key messages for you to follow along with, below is each week's focus.
Week One: Eat a variety of nutritious foods
Be sure to include healthful foods from all food groups and incorporate your favorite cultural foods and traditions
Week Two: See a Registered Dietitian Nutritionist (RDN)
Make an appointment with NATIVE HEALTH's CDCES, Michelle Hill, to receive personalized nutrition information to meet your health goals
Week Three: Plan your meals and snacks
Use a grocery list to shop for nutritious foods and try to make healthy food and drink choices when away from home
Week Four: Create tasty foods at home
Try new flavors and foods from different Indigenous communities and enjoy your meals with friends and family, when possible
Please join us for our monthly virtual cooking demo with Michelle Hill, NATIVE HEALTH's Registered Dietitian, on March 16, at 2:00 p.m. via Zoom. Participants will learn an easy nutritious recipe and have the opportunity to ask any nutrition-related questions! To register, please click
here.
Participants who reside in Maricopa County will be entered into a raffle for fun kitchen items!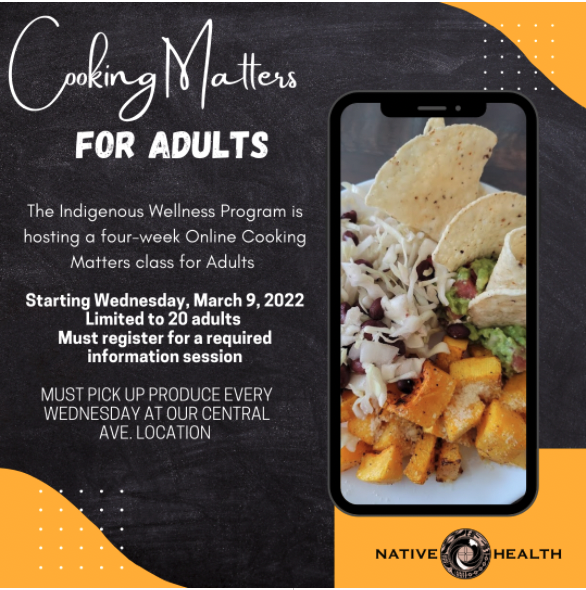 Indigenous Wellness is back with our Cooking Matters classes for Adults! This is a great opportunity to learn more about healthy eating and new recipes!
Throughout the 4-week course, we will cover how to make smarter food choices, learn about the food groups on MyPlate, learn how to read food labels and so much more. Each week you will receive produce to make the recipes that we provide.
Adults that are interested MUST register for a REQUIRED information session on Tuesday, March 8, 2022 via Zoom at 3:00 p.m. Click here to
register
.
For more information, please contact Amber at
Amber.