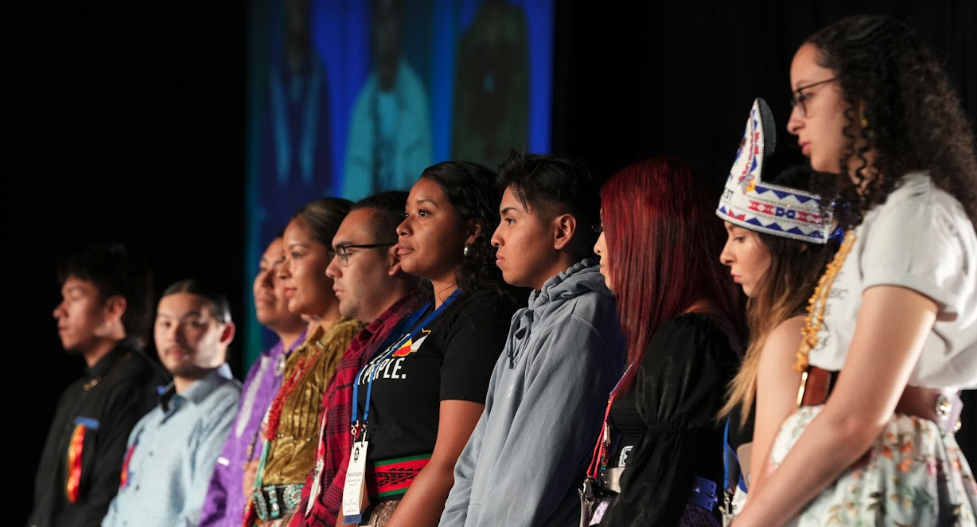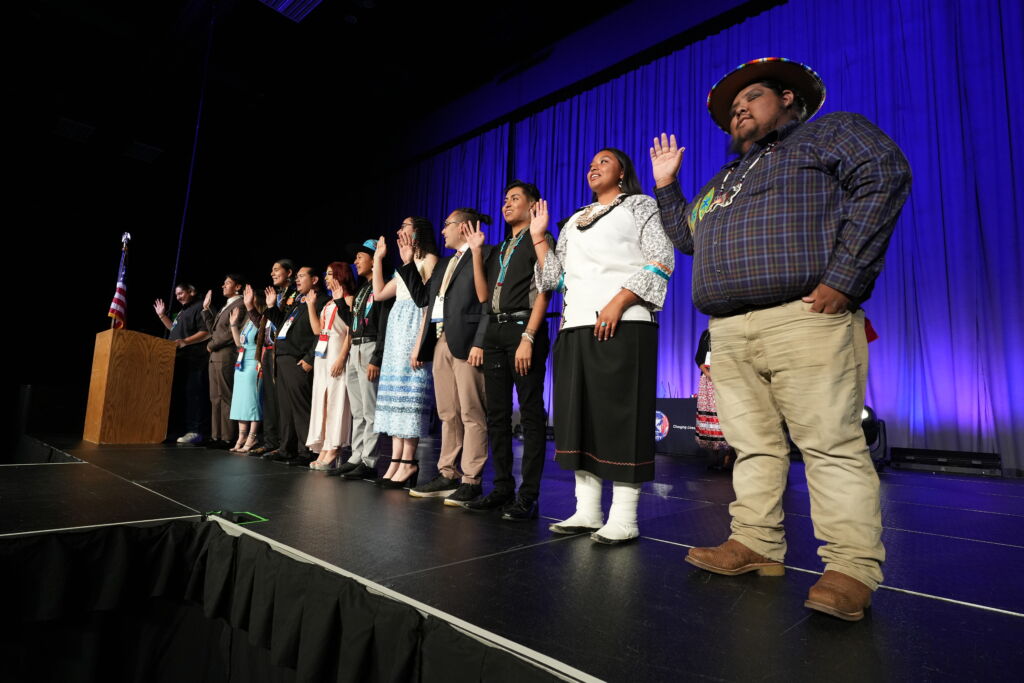 The National UNITY Council elected its new 2022-23 Executive Committee Members who were honored at UNITY's annual Gala during the National UNITY Conference this July. Imagine nearly 2,000 Native youth from around the country listening to powerful messages for five days at the National UNITY Conference in Minneapolis, Minnesota, presented by the Fort McDowell Yavapai Nation. That was the goal when United National Indian Tribal Youth, Inc. hosted its annual conference on July 8-12, 2022. "This year's conference was an outstanding success. To see nearly 2,000 Native youth come together for celebration and learning was a beautiful experience," said Mary Kim Titla, UNITY Executive Director. "Everyone who attended came away with not only wonderful memories but also new skills and knowledge that will help them to develop as leaders." Winners of the J.R. Cook Advisor of the Year, Eddie Wadda Alumni of the Year, and Youth Council of the Year awards were also honored at the annual UNITY Gala. UNITY proudly thanks the outgoing 2021-22 Executive Committee for all of their hard work and dedication to serving Native youth for the past year.
2022-23 National UNITY Council Executive Committee
Co-President – Chenoa Scippio (Santa Clara Pueblo/Navajo of New Mexico)
Co-President – Colby White Thunder (Alabama-Coushatta Tribe of Texas)
Vice President and Southeast Region Representative – Evynn Richardson (Haliwa-Saponi Nation of North Carolina)
Secretary and Northwest Region Representative – Jonathan Arakawa (Lower Elwha Klallam Tribe of Washington)
Great Plains Region Representative – Justice Fox (Mandan, Hidatsa and Arikara Nation of North Dakota)
Midwest Region Representative – Angelina Serna (Turtle Mountain Band of Chippewa 

Indians

/Oneida Nation of Illinois)
Northeast Region Representative – Nathan Solorio (Brokenhead Ojibway Nation of Pennsylvania)
Pacific Region Representative – Kaytlynn Johnston (Bishop Paiute Tribe of California)
Rocky Mountain Region Representative – Watson Whitford (Chippewa Cree/Navajo of Montana) Southern Plains Region Representative – Elwood McClellan, Jr. (Iowa Tribe of Oklahoma)
Southwest Region Representative – Derek Captain (Laguna Pueblo/Navajo of New Mexico)
Western Region Representative – Steve Harvey (San Carlos Apache Tribe of Arizona)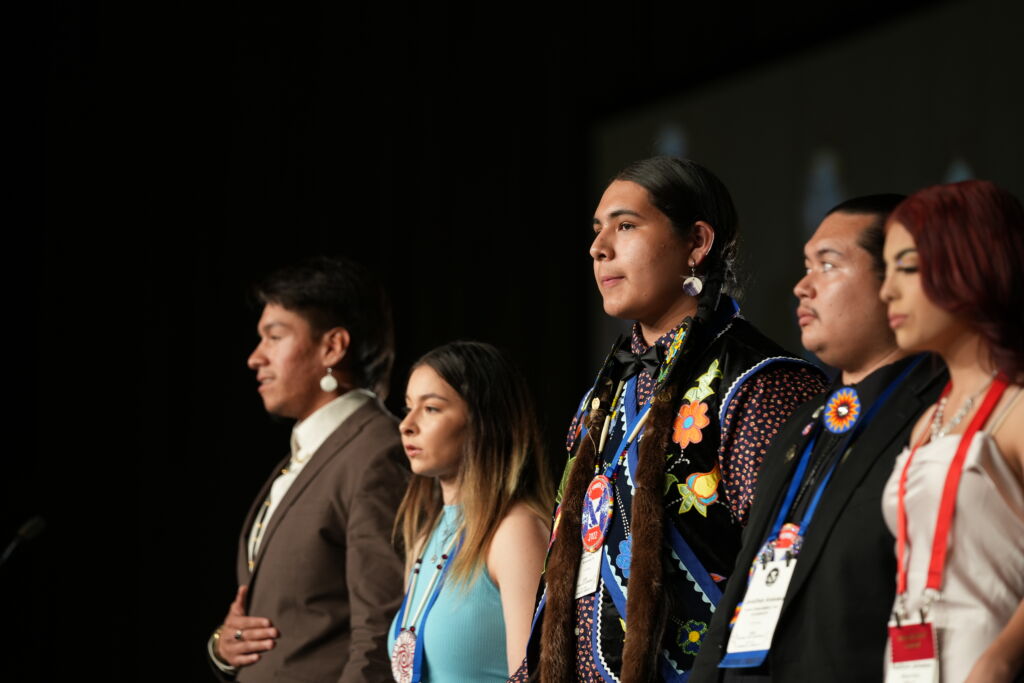 CO-PRESIDENT
CHENOA SCIPPIO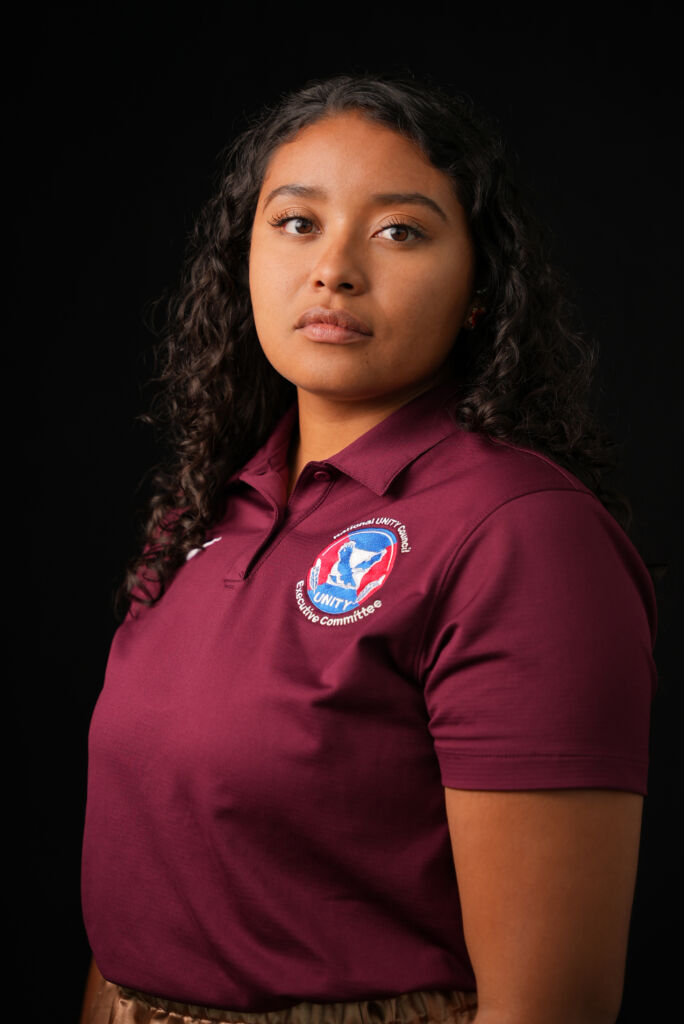 Chenoa Scippio is an enrolled member of the Navajo Nation and is also affiliated with the Pueblo of Santa Clara. She recently graduated from The University of New Mexico with degrees in Population Health and Native American Studies. She currently serves as the Female Co-President of the National UNITY Council Executive Committee. Chenoa is a member of the New Mexico Indigenous Youth Council, housed in the New Mexico State Indian Affairs Department. In this position, she hopes to be an advocate for her community at the state level. Chenoa is planning new mental/behavioral health programming with a focus on traditional teachings, storytelling, songs, dances, and art as stress relief rather than substance and alcohol use. She has also recently accepted an invitation to join the newest cohort of Americans for Indian Opportunities (AIO) Ambassador program, an Indigenous values-based community capacity-building, and leadership development initiative. Chenoa's involvement with UNITY, New Mexico Indigenous Youth Council, and AIO will continue to develop her skills as a community organizer, and most importantly, as a voice for youth who have not found theirs yet.
CO-PRESIDENT
COLBY WHITETHUNDER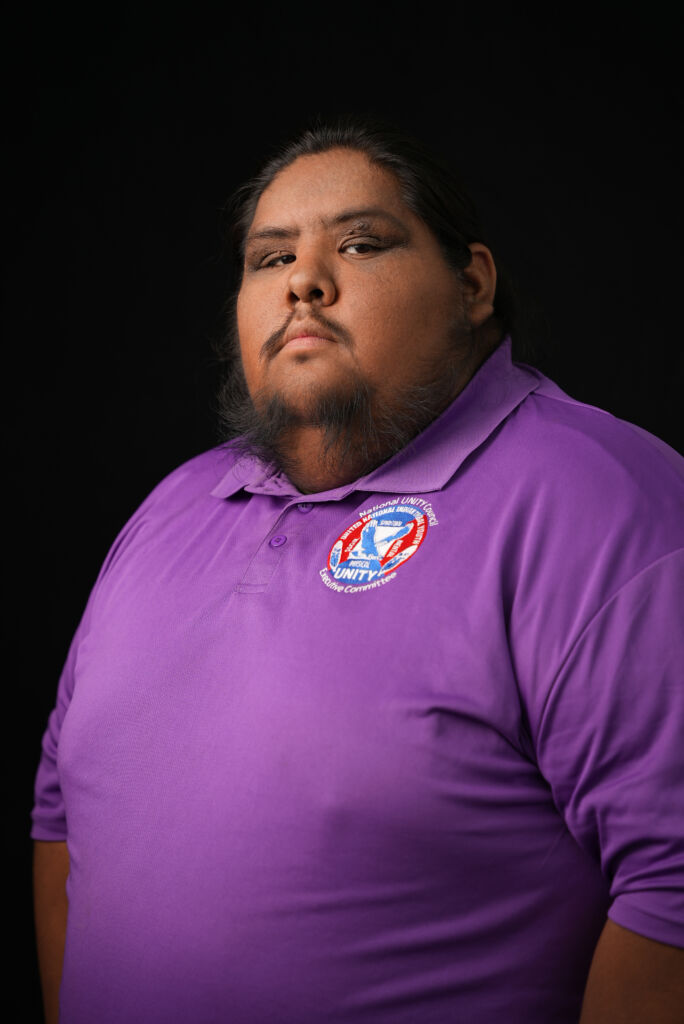 Colby WhiteThunder is an enrolled member of the Alabama-Coushatta Tribes of Texas, as well as the Omaha Tribe, and comes from the Daddy Longlegs Clan. He is 24 years old, and currently working as a Youth Aide/Advisor for his tribe's youth council. He served as the UNITY Southern Plains Representative from 2019-2021. He currently serves as an Ambassador for the Tribal Youth Resource Center through the Office of Juvenile Justice and Delinquency Prevention (OJJDP). Something he would like to accomplish during this term would be bridging the gap between the elders and youth to understand each other better.
GREAT PLAINS REGION REPRESENTATIVE
JUSTICE FOX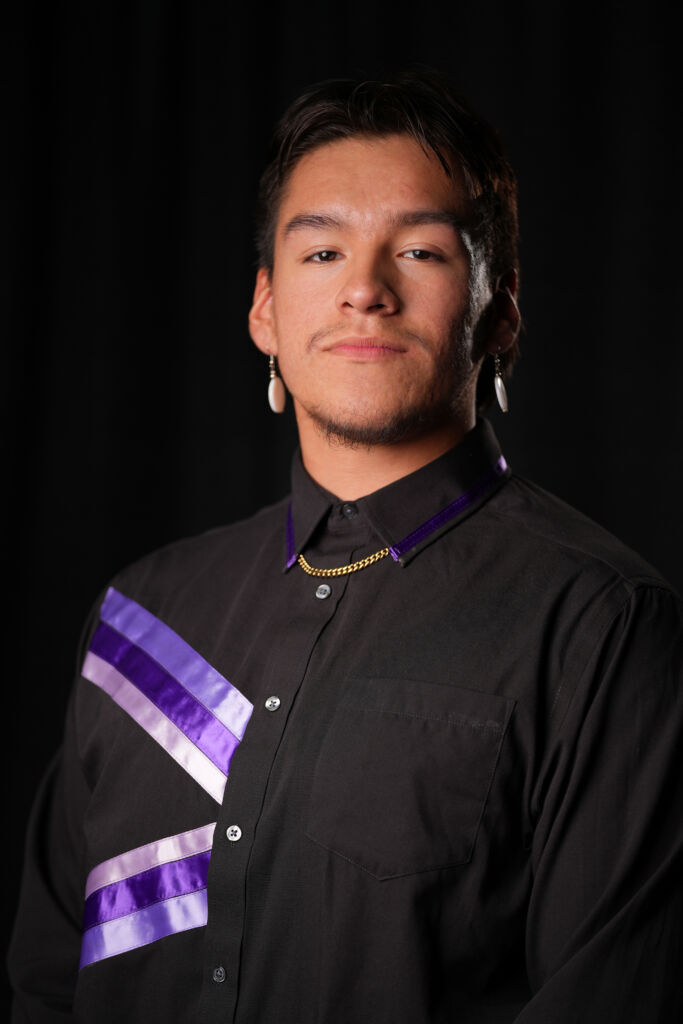 Justice Fox is an enrolled member of the Three Affiliated Tribes; Mandan, Hidatsa, and Arikara. Justice was elected as the Great Plains Regional Representative for the National UNITY Executive Committee. When Justice isn't doing UNITY business; he is an 18-year-old student who attends Haskell Indian Nations University, living life to the fullest by pursuing Business Management. Learning something new, helping his family, working out, and helping his community are just some of the hobbies he enjoys.
For as long as Justice can remember; the core values of Integrity, Loyalty, Gratitude, Honesty, and Perseverance have been taught and engraved into him by his family to be the best version of him he can be. Using these values he attempts to serve the people but mostly the Native youth of his community and outside of his community so that they can be more successful than him. With the great opportunity, Justice has been given to be the Great Plains Regional Representative, he hopes to grow the youth involvement within the region to make the Great Plains, Greater. He is beyond excited to work with the other representatives to empower the youth and make their voices be heard from all over Native Country. His dream is for a future where the Native youth can come for what their ancestors were denied.
MIDWEST REGION REPRESENTATIVE
ANGELINA SERNA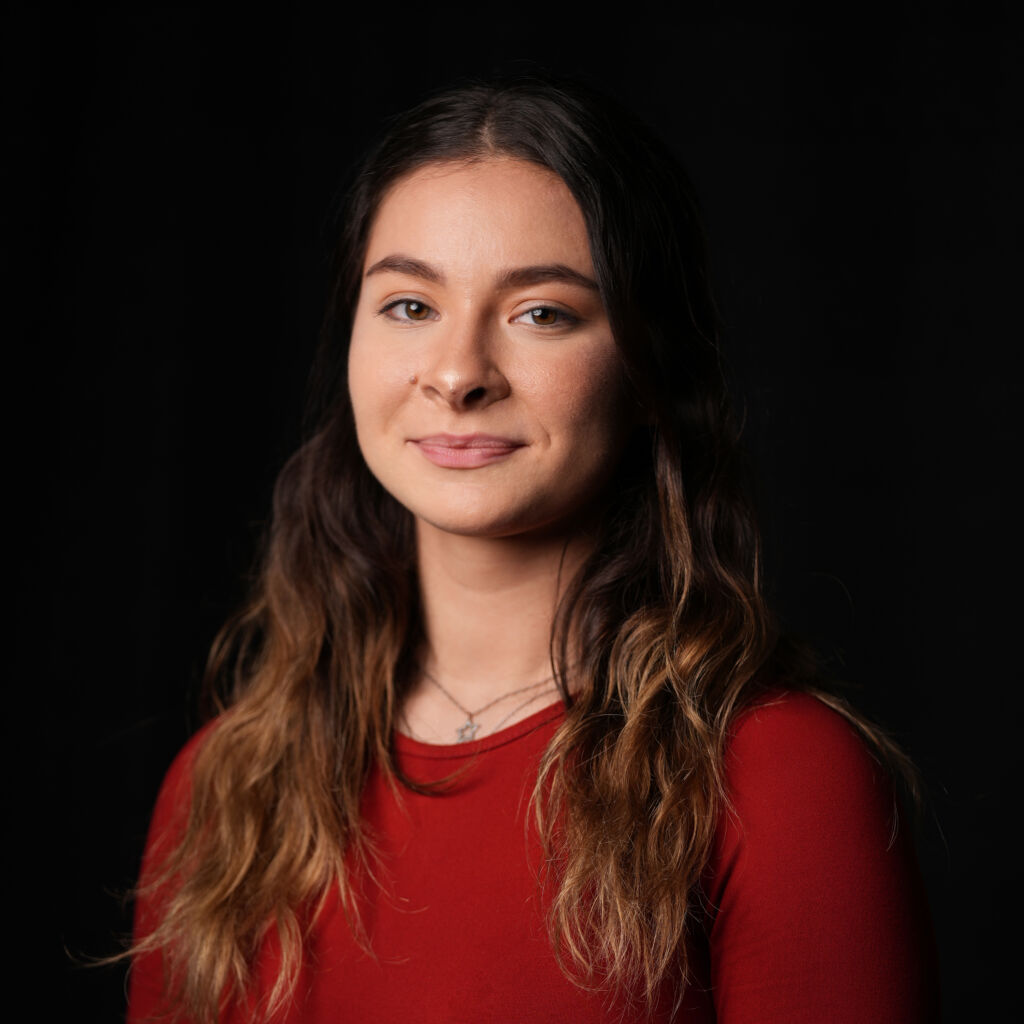 Angelina is from the Oneida Nation and Turtle Mountain Band of Chippewa Indians. Angelina, a student-athlete, has just completed her 4th year as a Varsity starter and Captain for Volleyball, Soccer, and Cheerleading teams. She is the Lead tumbler and Captain for the Varsity  Cheerleading Team, which won the 2020 and 2022 Noble Conference Championships and the 2020 and 2022 Co-Ed Cheerleading Champions for Chicago Public Schools. Angelina was named Athlete of the Year and named the most decorated athlete in school history. While she takes athletics very seriously, she is also a dedicated student who has taken all Honors/AP classes and has maintained four straight years of the High Honor Roll with a GPA of 4.22. She has recently graduated in the Top 10 Percent of her class from Pritzker College Prep High School in Chicago, IL. Angelina is the Founder and President of Chicago's Indigenous Tribal Youth (C.I.T.Y.) Council, who won Youth Council of the Year at the 2021 UNITY Conference in  Dallas, Texas.
She was also selected to be a member of the 2020 Class of Native Jump Start Program at the University of California-Berkeley and was also a participant in the 2020 World Affairs Youth Seminar at Auburn University and participated in the 2021 Dartmouth Indigenous Fly-In Program. Currently, she completed her work with curators at the Chicago Field Museum, where she is now featured in the new Native American Hall on Chicago's Indigenous Youth called "  Native Truths, Our Voices, Our Stories." Angelina and her youth council have partnered with the American   Indian Center of Chicago to co-create the "I Support Lateral Kindness" Campaign, which focuses on combating lateral violence and other issues facing Indian Country through kindness and humanity. She has led workshops at the UNITY Mid-year Conference and the UNITY National Conference in Minneapolis, Minnesota. Angelina participates actively in the community by volunteering her time with the Pandemic Food Distribution, "Food Is Medicine" program, Senior Luncheons, Indigenous I-STEAM    summer Camp, fundraisers, and various community cultural classes and events. Angelina will attend Cornell University in the fall to double major in Public Policy and Government with a minor in Native American and Indigenous Studies.
She is a recipient of the prestigious Meining Family Cornell National Scholar award; this award is for students who show extraordinary scholarly and leadership qualities and will receive the utmost development during their time at Cornell University. This program will help students gain the tools they need to become leaders in an ever-changing world. She hopes to return to the community to aid in shaping policy that impacts the urban Native community.
NORTHEAST REGION REPRESENTATIVE
NATHAN SOLORIO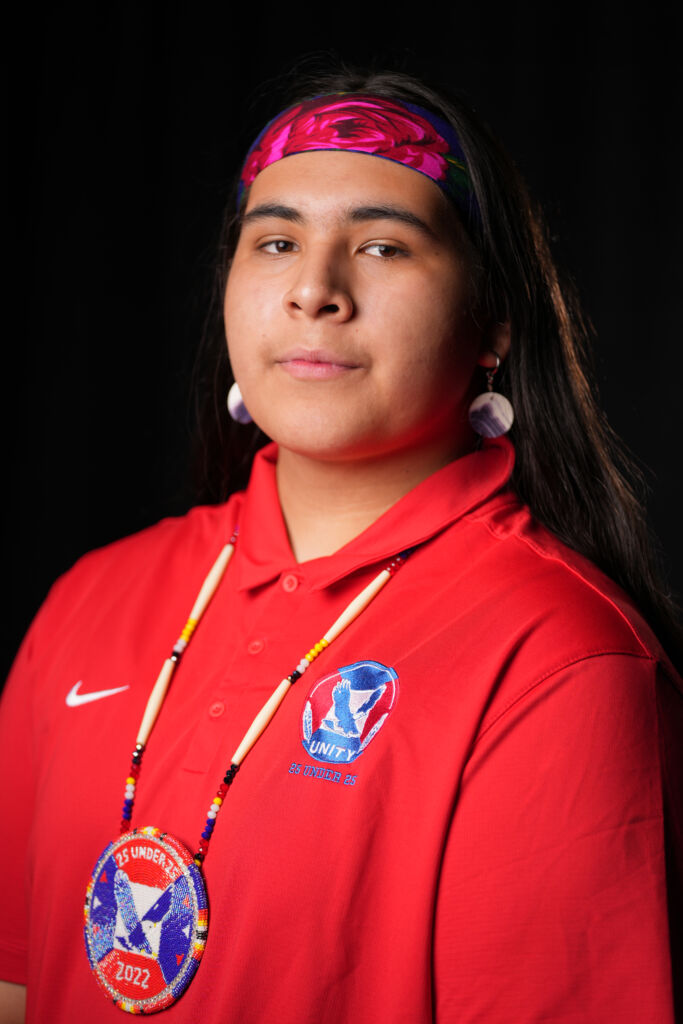 Nathan Solorio, 15, is a descendant of the Roseau River Anishinabe Nation and is enrolled with the Brokenhead Ojibway Nation from Scanterbury, Manitoba, Canada. Nathan is currently a Sophomore in CAOLA High School through the West Shore School District in Camp Hill,   Pennsylvania. His recent honors include being a recipient of the 5th class of UNITY'S 25 Under 25 National Leadership Recognition Program. He was also recently inducted into UNITY's 2022-2023 National UNITY Conference Executive Committee as UNITY's Northeast Regional Representative. He enjoys traveling with his family, going to powwows, spending time with his friends, and meeting new people. In the future, he plans on attending college and majoring in Nursing.  Nathan is focused on meeting and working with the youth councils in his region. He believes in community service, which is about positive vibes and helping others.
NORTHWEST REGION REPRESENTATIVE
JONATHAN ARAKAWA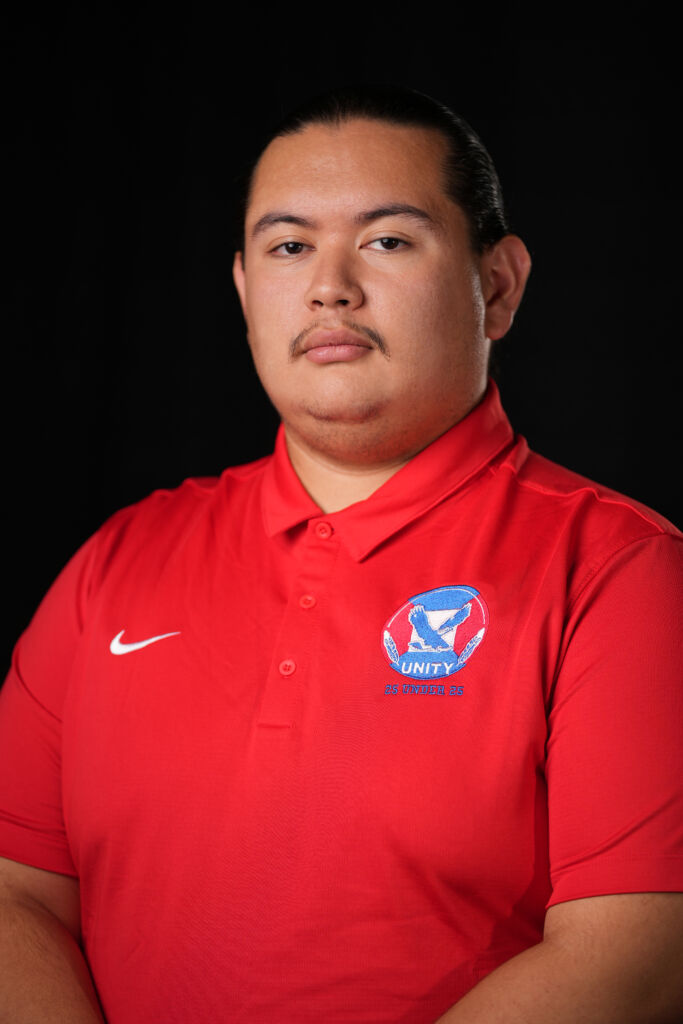 Jonathan Arakawa is an enrolled member of the Lower Elwha Klallam Tribe. Mr. Arakawa is the Secretary and Northwest Regional Representative to the National UNITY Council Executive Committee (NUC-EC).  Mr. Arakawa is a proud and recent recipient of UNITY's 5th Class of 25 Under 25 National Leadership Recognition Honoree, one of the most prestigious awards in Indian Country. Outside of UNITY, Mr. Arakawa also serves as Co-Vice President of the National Congress of American Indians Youth Commission (NCAI-YC). Mr. Arakawa is a student at the Evergreen State College, studying for his Bachelor of Arts in Tribal Governance. He is also a Klallam Language Teacher, recently appointed to the Klallam Language Teacher Certification Board, and serves as Minister of the Lower Elwha 1910 Indian Shaker Church.  Since birth, Mr. Arakawa's family has instilled leadership qualities, cultural values, and traditional teachings into him. These qualities, values, and teachings lead Mr. Arakawa in pursuit of his work and advocacy for Indian Country.
PACIFIC REGION REPRESENTATIVE
KAYTLYNN JOHNSTON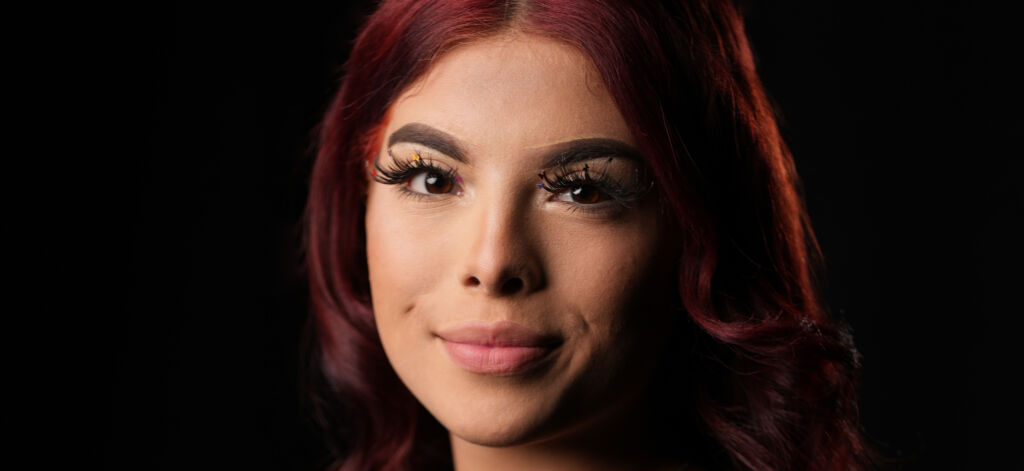 Kaytlynn Johnston is an enrolled member of the Bishop Paiute Tribe of California. She was re-elected as the Pacific Region Representative. She is the daughter of  Carrie and Tony Brown and the granddaughter of the late Jennette Kay Barlow and Kenneth Ray Jones Sr. She is currently a senior at Bishop Union High School. She loves volunteering and bettering her community in any way she can and being a part of the Bishop Tribal Youth Council serving as the Female Co-President.
Being the Pacific Region Representative allows her to be a role model for other native youth in the Pacific Region as well as a role model within native communities across the United States. I'm beyond excited to start this chapter of being the Pacific Representative and getting to meet all of the different youth councils within my region. Don't be afraid to reach out I'm here to be your voice!
---
ROCKY MOUNTAIN REGION REPRESENTATIVE
WATSON WHITFORD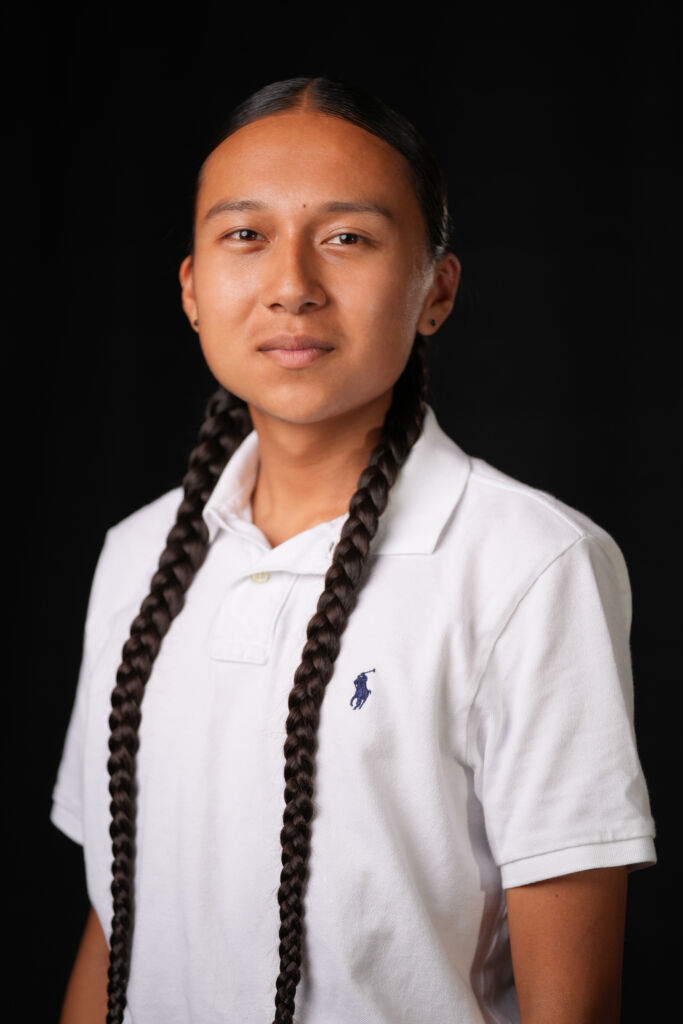 Watson Whitford's "Wapanatak" (Morning Star) comes from the Dine (Navajo) and Chippewa Cree Nations. Whitford is the newly elected Rocky Mountain Region Representative,  representing both Montana and Wyoming for United National Indian Tribal Youth. Whitford currently attends the Navajo Preparatory School in Farmington, New Mexico as a Senior (Grade 12). He is very passionate about continuing the sacred ways of his ancestors through ceremonies, songs, and teachings, but also wants to have a strong educational background. He encourages all indigenous youth to discover themselves through their language and culture and to become successful in this modern world. In addition, Watson served as a UNITY Earth Ambassador 2021-22.
SOUTHEAST REGION REPRESENTATIVE
EVYNN RICHARDSON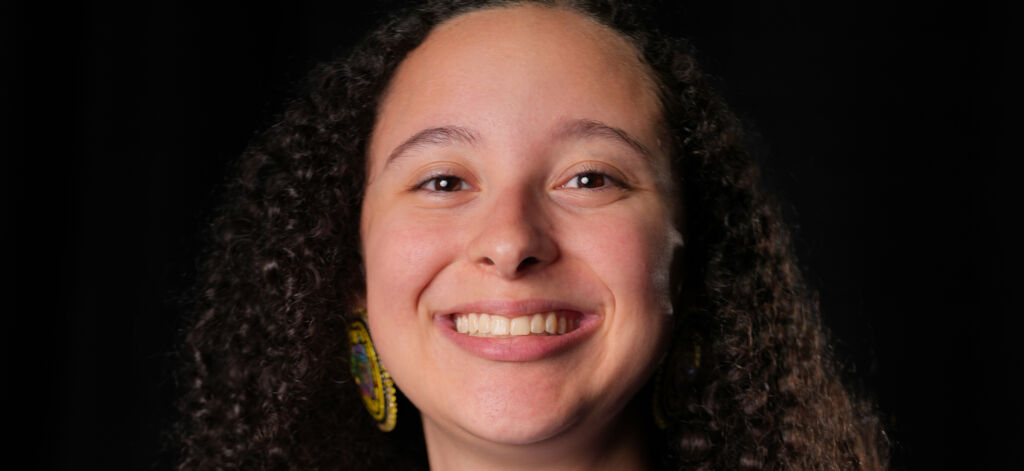 Evynn Richardson, also known by her given name, Ksé:hahiyé, is an enrolled member of the Haliwa-Saponi tribe of North Carolina and holds relations with the Nansemond Nation of Virginia. Being an active member of her community, she has held various positions on the North Carolina Native American Youth Organization, WeRNative, Native Action Network, and the National UNITY Council Executive Committee. Through these positions, she has built many connections that have opened various opportunities for her to build initiatives revolving around giving back to her community. Evynn has worked as a Remembering Our Sisters fellow through the Center for Native American Youth to promote the Missing and Murdered Indigenous Women, Girls, and Two-Spirit movement through media and is currently working on organizing a database of Indigenous mental health services and resources to target the mental health crisis among Native youth. Being a full-time student at the University of North Carolina at Chapel Hill, she hopes to pursue her interests in non-profit management and art to give back to her community in whatever capacity she can. Evynn hopes to continue to serve Native youth, build tribal connections, engage youth involvement, and inspire positive change in the areas that she represents and beyond as the Southeastern Representative and Vice-President of the NUCEC.
---
SOUTHERN PLAINS REGION REPRESENTATIVE
ELWOOD MCCLELLAN, JR.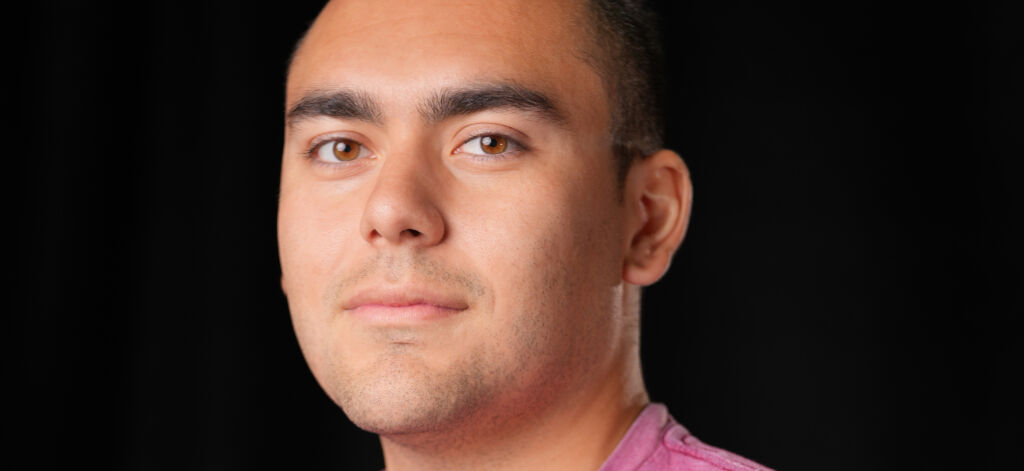 Elwood McClellan Jr is a member of the Iowa Tribe of Oklahoma. Mr. McClellan is the Southern Plains Region Representative to the National UNITY Council Executive Committee. Mr. McClellan currently serves as the Chairman of the Iowa Tribe of Oklahoma's UNITY youth council and has served on the Iowa Tribe of Oklahoma's Election Board where his interest in program development derived. This has all taken place during Mr. McClellan's time at the  University of Oklahoma where he recently graduated with his Bachelor's Degree in Human   Relations. With the experiences throughout his life and the material that his degree path has provided, he plans to directly apply his studies to Indigenous communities.
SOUTHWEST REGION REPRESENTATIVE
DEREK CAPITAN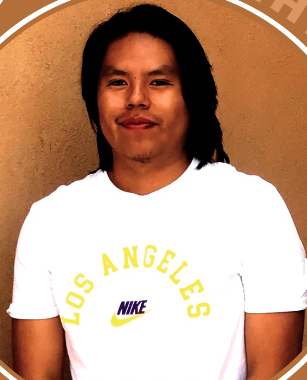 Derek Capitan (Laguna/ Navajo) is from the Laguna Pueblo of New Mexico. He is attending the University of New Mexico (UNM) pursuing a degree in environmental engineering. His interest lies in assisting communities in identifying healthy solutions to agricultural and water treatment practices. Derek is involved with UNM's Center for Water and the Environment,    conducting research on Indigenous Lands that have been impacted by mining legacy. He is proud to be helping his people and he hopes to deliver results that will guide them to a promising future. Derek also involves himself in other school clubs dedicated to academic excellence and volunteerism. Derek, who is now a part of the United National Indian Tribal Youth Council (UNITY), serving as the representative of the Southwest region, is looking for yet another challenge as he looks to lead Indigenous youth to promising opportunities. His passion is his youth as he believes that they are future leaders of tomorrow. He believes they hold a special gift in which his goal is to help them find that. He is looking forward to the exciting journey that lies ahead.
WESTERN REGION REPRESENTATIVE
STEVE HARVEY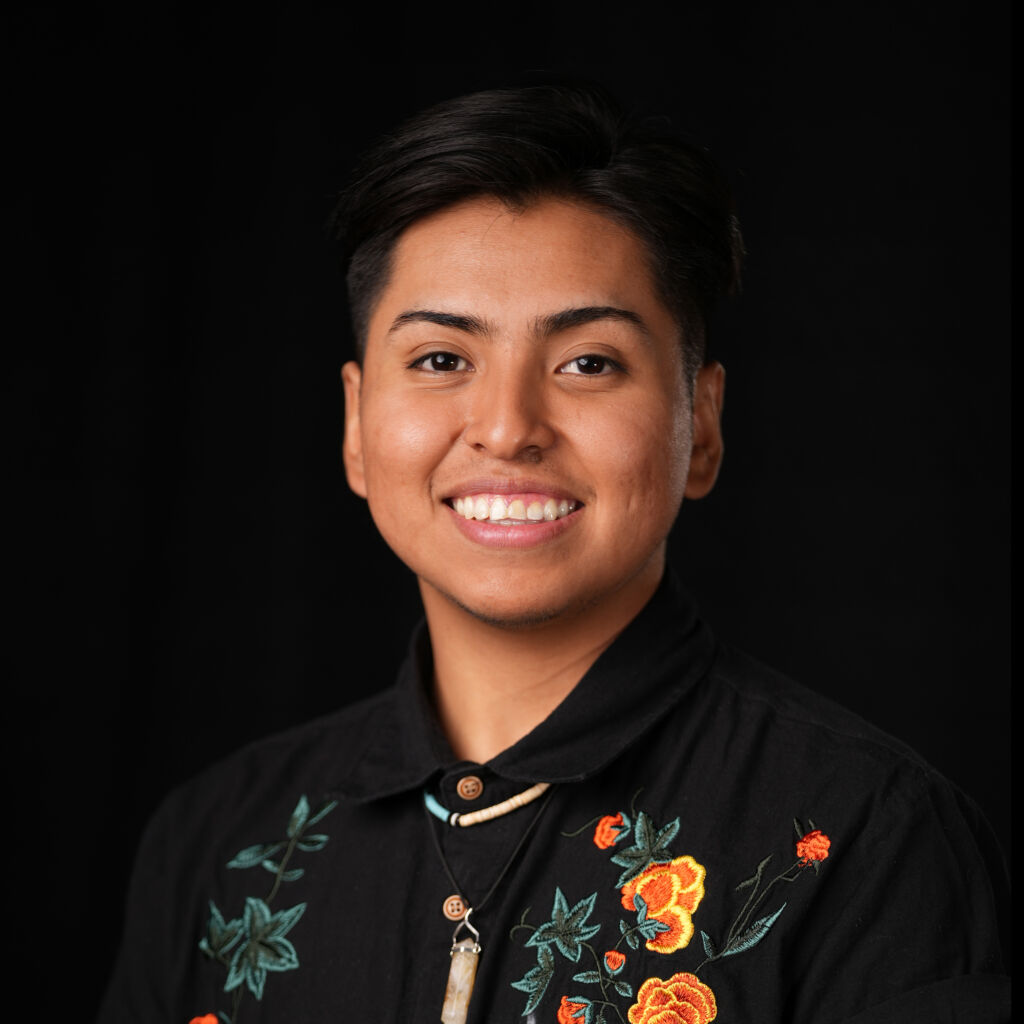 Steve Harvey is an enrolled member of the San Carlos Apache Tribe. Mr. Harvey is the Western Regional Representative to the National UNITY Executive Committee and 2021-2022 Circle of Earth Ambassadors. Outside of UNITY, Mr.Harvey is an active member of the San Carlos Apache Tribe Youth Council and an employee of the San Carlos Apache Tribe Social Service Department. While a full-time student at Eastern Arizona College, he is working toward his associate's in Liberal Studies and Social Work. Mr. Harvey has grown up around the core values and teachings of the Apache way of life and uses those teachings instilled by his community to work toward empowering and leading the youth within Native Country. Mr. Harvey is currently finishing up his associate's degree at Eastern Arizona College. He plans on pursuing his Education at the University of Arizona to obtain his undergraduate degree in Social Work. Mr. Harvey is a strong advocate for addressing environmental concerns. Through his work, he serves as an Environmental ambassador extracting and distilling lessons from nature and culture to explore alternatives for a sustainable future to live more gently on our planet as Ambassadors of our environment. Mr. Harvey believes that advocating for the planet is a step in the right direction to addressing environmental concerns within native communities.
Mr. Harvey is excited to be the voice for all within his region and throughout Native America. He is serving as a role model for the UNITY organization, and he aspires to continue to work toward a bigger goal of empowering and creating leaders of tomorrow. His biggest aspiration for his term is to create a foundation to continue youth success within the Western Region