As Native youth are faced with the ongoing Covid-19 pandemic, UNITY leaders hosted a live discussion with an expert in Indigenous Health to answer some common questions. Dr. Waarne believes that the future of our communities will be shaped by Native youth answering the call to help keep our people safe.  He states how he feels Native youth will respond best from hearing public health information from their peers. This December UNITY youth are challenged to create their own PSA videos to educate others on how we can stay safe and make informed decisions about vaccines. Click here to learn more.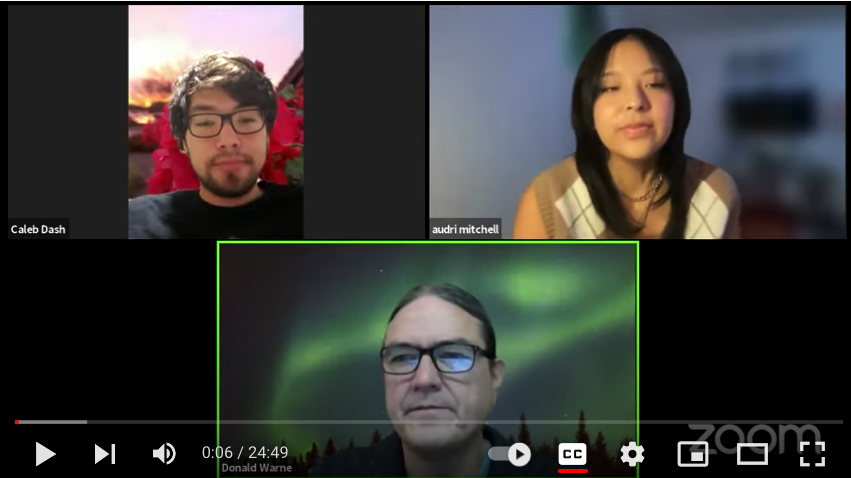 Donald Warne, MD, MPH serves as the Associate Dean of Diversity, Equity, and Inclusion; Chair of the Department of Indigenous Health; Director of the Indians Into Medicine (INMED) and Public Health Programs; and Professor of Family and Community Medicine at the School of Medicine and Health Sciences at the University of North Dakota. Dr. Warne is the Principal Investigator for the Indigenous Trauma & Resilience Research Center at UND, and he also serves as the Senior Policy Advisor to the Great Plains Tribal Leader's Health Board in Rapid City, SD. Dr. Warne is a member of the Oglala Lakota tribe from Pine Ridge, SD, and comes from a long line of traditional healers and medicine men.
Donald Warne received his MD from Stanford University School of Medicine in 1995 and his MPH from Harvard School of Public Health in 2002. His work experience includes several years as a primary care physician with the Gila River Health Care Corporation in Arizona; Staff Clinician with the National Institutes of Health; Indian Legal Program Faculty with the Sandra Day O'Connor College of Law at Arizona State University; Health Policy Research Director for Inter-Tribal Council of Arizona; Executive Director of the Great Plains Tribal Chairmen's Health Board; and Chair of the Department of Public Health at North Dakota State University. Dr. Warne is also a member of the Stanford University Alumni Hall of Fame.
Professional activities include:
Member, Health Equity Advisory Committee, HeatlhAffairs;
Member, Culture of Health Advisory Committee, National Academy of Medicine;
Member, Framing the Future 2030 Initiative, Association of Schools and Programs of Public Health;
Member, Group of Diversity and Inclusion, Association of American Medical Colleges;
Member, EC 50 People Changing the World, Explorers Club;
Member, Health Disparities Subcommittee of the Advisory Committee to the Director of the Centers for Disease Control and Prevention (CDC);
Member, International Advisory Committee, Australian Journal of Rural Health;
Member, Indigenous Health Research Fund Expert Advisory Panel, Medical Research Future Fund, Australia; and
Member, Diabetes in Indigenous Populations Special Interest Group, International Diabetes Federation.