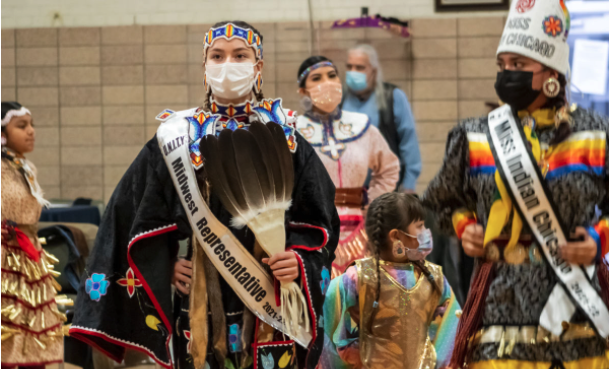 "Come See Us": Noble Student Shares Her Native American Heritage
Captain of the varsity volleyball team and varsity cheer team, varsity soccer player, and senior at Pritzker College Prep.
Midwest representative for the largest Native youth organization in the country.
Founder and leader of the nationally-recognized Chicago Indigenous Tribal Youth council.
Angelina Serna is one of many Native kids in Chicago, but she certainly has her own story to tell. And especially for Native American Heritage Month, she wants to tell it.
"When I tell my story, I know there's always somebody either watching me or who can relate to me," Angelina says, "This month means I can express myself and educate people. There are typical stereotypes, and we don't always fit those stereotypes. We have our own culture, and we believe in our culture and our beliefs, and our grandfather teachings. They should be taught so people are aware and they're not just following a stereotype."
Angelina serving food to her community at the American Indian Center's Giving Thanks event.
WHAT HERITAGE MEANS TO ANGELINA
Angelina is from the Turtle Mountain Band of Chippewa Indians and the Oneida Nation of Wisconsin. In the past few years, she has dealt with a lot of struggles – from being houseless two years ago to losing her grandmother during the pandemic. Through it all, her Native heritage has been a rock for her to stand on.
"My culture is everything to me because there have been times where I've needed it, and I've prayed. It really helps me get through all my struggles," Angelina says.
Angelina dancing in her regalia at the Giving Thanks powwow.
This strong relationship with her culture is a big part of what motivates her to do the work that she does, both in school and in her community. Her mother says that even when they were houseless, she never missed a step.
"She's never faltered. She's never missed a practice, she's never missed a game. She stayed consistently on the high honor roll and on top of all her AP and honors classes. And I think that just shows the strength of where our Native students are," Melodi Serna, Angelina's mom and Executive Director of the American Indian Center, says.
WORKING WITH HER NATIVE YOUTH COUNCIL
In addition to all her achievements at school, Angelina started the Chicago Indigenous Tribal Youth council, or CITY for short, in early June this year and continues to serve as the president.
"I wanted to create a youth council to give back to my community, to make it a safe space for the youth and their families," Angelina says.
Angelina (center) with her fellow CITY members at the UNITY conference this year.
CITY is an integral part of all the work and events the American Indian Center (AIC) does. Although they are supported by AIC, CITY is completely youth-led. They do all of their own fundraising, and they set up and run their events all on their own: They buy groceries and make full, healthy meals for their elders. They buy their own prizes for bingos that they run for fundraising. Right now, they're making their own drums and running a hand drum workshop to start a new youth drum.
"There is a lot of stuff that our youth council really does," Ms. Serna says, "There isn't anything they don't do."
It's not only Ms. Serna and AIC that recognize the work CITY has done. This year, CITY was also awarded "Youth Council of the Year" at the United National Indian Tribal Youth (UNITY) conference.
UNITY is the largest national Native youth organization that connects over 300 Native youth councils across the country. They host an annual conference to provide workshops on leadership, cultural traditions, and more to over 2,000 Native American youth. At the conference in Dallas, Texas this year, not only did CITY win the Youth Council of the Year award, but Angelina was elected as the Midwest regional representative for UNITY. Her fellow youth council members admire her leadership:
"She takes initiative, and she's very passionate about helping people in her community and across the Midwest," Nizhoni Ward, a CITY member and AIC's Miss Indian Chicago, says, "Anything you tell her to do, she'll always do it with a smile and a good attitude. She's always doing something, whether that's singing, dancing, or volunteering."
"Her leadership, from a sibling standpoint, is unworldly," Angelina's brother and CITY member, Antonio Serna, says, "She's very unique in the way she leads. She can rally almost anyone."
"When she puts her mind to something, she'll figure it out in a second," says Aul Armenta Jr, another CITY member.
GivingThanks2021-04Chicago Indigenous Tribal Youth (CITY) serving food to their community and elders at the Giving Thanks event.
GivingThanks2021-67CITY Member and Miss Indian Chicago, Nizhoni Ward, speaking at the Giving Thanks powwow.
GivingThanks2021-50Angelina's brother and CITY member, Antonio Serna, playing in the drum and singing at the Giving Thanks powwow.
GivingThanks2021-68Angelina speaking at the Giving Thanks powwow.
ANGELINA'S HOPES
Angelina says that she has learned so much about leadership from her experience with UNITY, and it felt so good for her council's work to be recognized. She hopes to see CITY continue to grow and encourages any Native kids to come and check out one of their meetings.
She also wants to encourage all people, especially in the Noble community, to learn about the many different Native cultures and traditions in the city.
"There's actually people interested and respectful about it. I really wish more students or parents and teachers were the same way," Angelina says, "People should really reach out and not just go on Google… Reaching out, I think, is the biggest thing for people to educate themselves but also be respectful to us and our culture."
Another big thing she emphasized: Folks coming out and seeing the large intertribal Native community in Chicago and the work CITY and AIC are doing.
"Come to events. See what we're doing here. See what the youth council is doing, see what I'm doing. See how we're a community."
>> Follow the American Indian Center on Facebook to find events to attend.